In summary
GFX100S is an ideal choice for commercial and wedding photography, particularly with one of Fujifilm's excellent prime lenses. The 32-64mm zoom lens is a good match for the camera for 'walkaround' shooting, whether it's street photography or fairly gently bushwalking. But make sure you have a comfortable backpack in the latter situation.
Full review
Announced at the end of January 2021, Fujifilm's GFX100S packs the same 102-megapixel 43.8 x 32.9 BSI CMOS sensor and quad-core X-Processor 4 CPU as the GFX100 into a smaller, less expensive body designed for portability. Most features of the previous model are retained but the new camera has an updated IBIS system that is 20% smaller and 10% lighter and promises six stops of shake correction. The camera itself weighs 500 grams less than the GFX100 but its magnesium alloy shell is 1 mm thicker around the lens mount to support larger G-mount lenses.

Angled view of the GFX100S camera fitted with the GF110mm f/2 R LM WR lens. (Source: Fujifilm.)
In addition to the sensor and image processor, the GFX100S retains other attractive features of the GFX100 and even improves on some of them. Key features of the new camera include:
8 x 32.9 mm (medium format) BSI-CMOS sensor with 102 megapixels effective resolution
Quad-core X-Processor 4 CPU
Weather-sealed magnesium alloy camera body
In-built image stabilisation (IBIS) system rated at up to 6EV
Native ISO range of 100-12,800 with extensions above and below native range accessible when the mechanical shutter is selected
Continuous shooting at up to 5 fps with C-AF mode
4K video at up to 30p with HDMI output of 10-bit 4:2:2 or 12-bit Raw footage
Multi-shot 400MP mode for static subjects
2,360,000-dot rear touchscreen monitor with three-axis tilt
303 x 230-dot top panel data display
Fixed 3,690,000-dot OLED EVF with 0.77x magnification
Lossy, lossless or uncompressed Raw in 16-bit or 14-bit colour depth
TIFF file support at 8- or 16-bit depth
Dual UHS-II SD card slots (V90 compatible)
Rechargeable NP-W235 battery, rated at 460 shots
The GFX100S is supplied with the Fujifilm NP-W235 Lithium-Ion battery (7.2V, 2200mAh), AC-5VJ AC Power Adapter, Plug Adapter, USB-C Cable, Shoulder Strap, BCP-002 Body Cap, Hot Shoe Cover and Cable Protector. We received the review camera with the Fujinon GF 32-64mm f/4 R LM WR lens which we reviewed in January 2019 plus the GF 100-200mm f/5.6 R LM OIS WR lens, which is reviewed separately.
Who's it For?
The main advantage of medium format cameras is the size of their sensors, which are significantly larger than the sensors in full-frame cameras and can receive more light with each exposure at equivalent values. On the downside, the focal length crop factor means the lens focal lengths are shorter than the 35mm equivalents by 0.79x. In addition, because the 102-megapixel images from the GFX 100S contain much more data than almost all full frame camera images the continuous shooting rate is limited to 5 fps.
Fujifilm's GFX cameras are probably the only ones in the medium format category likely to appeal to serious photo enthusiasts and entry-level professionals. This is partly because of their lower price tags but also because they are closer to cameras with 35mm-sized sensors in shape, size and usability.
The GFX100S has the advantage of being lighter and more compact than the GFX100 – as well as significantly cheaper. Its size and weight make it better suited for handheld shooting, where its improved stabilisation system will give it a decided advantage.
These features also make it better suited to corporate, event and wedding photography where the impressive size of the camera and its lenses plus their smart, businesslike appearance should make a favourable impact on clients. Its high resolution will also impress the clients of studio photographers, particularly portraitists and product shooters.
High resolution files could also justify architectural and real estate photographers investing in the GFX system. The ability to produce substantial enlargements without compromising image quality will also be valuable for fashion and interior photographers.
While we normally wouldn't consider using a medium format camera for bushwalking, we did try out the GFX 100S and GF 32-64mm f/4 R LM WR lens on a 4 km walk in moderately rocky and hilly conditions. Carrying the camera and lens wasn't all that onerous provided that was all we had to carry. The main issue was the lack of a suitable backpack for carrying the gear; the sling bag we used became quite uncomfortable because it didn't distribute the weight of the camera and lens correctly.
We found the new camera's smaller, more efficient shutter mechanism better at reducing shutter shock and its shorter release time lag of 0.07 second makes it a tad quicker to operate. The new shutter is durability rated for 150,000 cycles, that same as the shutter mechanism in the GFX100.
What's New?
The reduced size of GFX 100S gives is a big advantage over the GFX 100, which is roughly 60 mm longer and 500 grams heavier. While the reductions have meant using a smaller battery, the new camera retains the previous model's 102-megapixel and X-Processor 4 processor along with the familiar menu system and controls of existing GFX System cameras.
Improvements to the IBIS system will arguably be welcomed by potential buyers, even though it's only half a stop better than the GFX100's rating. However, the Sync IS system has been refined and combines the body and lens stabilisation systems to correct pitch and yaw in a similar fashion to the familiar systems in Canon, Olympus and Panasonic cameras.
Also refined is the multi-directional focus joystick, which is wider, flatter and dimpled to make it easier to use. It's also less vulnerable to accidental adjustments.
Fujifilm has added a new Film Simulation mode – Nostalgic Neg. – to the regular array of colour/tonal adjustments provided in all Fujifilm cameras. Reminiscent of 1970s American New Colour photography, the new mode adds an amber cast to highlights and boosts saturation in shadows, while still preserving details, for a slightly retro effect.

Nostalgic Neg Film Simulation mode; 60mm focal length, ISO 200, 1/85 second at f/13.

Provia (Standard) Film Simulation mode; 56mm focal length, ISO 200, 1/50 second at f/13.
Switching between stills and video recording is easier in the new camera, thanks to a slider switch in front of the mode dial and separate menus are provided for each mode. Frame sizes and rates can be set through the video menu or the quick menu button.
Build and Ergonomics
The GFX 100S body is shaped somewhere between SLR and rangefinder styling. Made from magnesium alloy with extensive dust- and water-resistant sealing, it is similar in styling to the GFX 50R and has the same built-in, 3,690,000-dot EVF and tilting 3.2-inch, 2,360,000-dot monitor.
The GFX 100S has a deeper grip and is slightly chunkier, measuring 150 x 104.2 x 87.2 mm, compared with 161 x 97 x 66 mm for the GFX 50R. It's also 125 grams heavier. But it has double the resolution.

Top view of the GFX 100S with no lens fitted. (Source: Fujifilm.)
Like other models, most of the surface of the GFX 100S is clad in a rubber-like material. The moulded grip is quite deep and comfortable for users with average-sized hands. It also positions the user's index finger squarely on the shutter button.
The mode dial – a new addition – is situated at the left hand end of the top panel. In front of it is a slider for selecting Movie and Still drive modes. The mode dial carries the regular P, S, A and M settings plus six programmable custom settings for storage of frequently-used combinations of settings.
Between the mode dial and the 3.2-inch monochrome data display (inherited from the GFX 100) is a shallow hump covering the EVF. This screen has the same 3.690,000-dot resolution and 0.77x magnification as the viewfinder in the GFX 50R and boasts an 85 fps refresh rate.
The shutter release button with its surrounding power on/off switch covers the top of the grip moulding. Behind it to the right of the data screen are two function (Fn) buttons, which can be programmed to access a selected function. The default settings for these buttons are sub-monitor mode and face detection on/off.
Another function button to the right rear of the shutter button defaults to exposure compensation adjustments. The fourth function button on the front of the camera is for performance boost adjustments (normally used to boost AF performance).
Front view of the GFX 100S with no lens fitted showing the larger 43.8 x 32.9 mm BSI CMOS sensor. (Source: Fujifilm.)
The only other button on the front panel is for the lens release, which is down on the grip-side rim of the lens mount in the usual position for Fujifilm cameras. The front panel also has an embedded LED just below the Movie/Still switch which performs three functions: for AF-assist, self-timer and as a tally lamp.
The front dial sits close to the top of the grip, just below the shutter button. The rear dial remains semi-embedded in the top right hand corner of the rear panel, just right of the AF On button.
The brass lens mount is common to all GFX cameras. It has a diameter of 65 mm, a flange back distance of 26.7 mm and minimum back focus distance of 16.7 mm. Twelve electronic contact points are provided for sending and receiving data.
On the back panel we find the three-way tilting monitor screen, which has a button on its left hand side to enable tilting when the camera is vertically orientated. The screen can be tilted up through 90 degrees, down through 45 degrees and to the right through 60 degrees. Its size and resolution are the same as the GFX100's and like that monitor it has a touch panel overlay that supports the common gestural controls.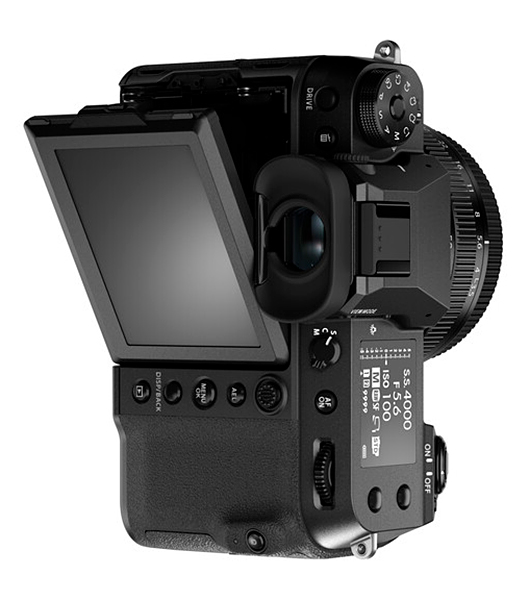 Two rear views of the GFX 100S showing its tilting screen in different configurations. (Source: Fujifilm.)
Lined up along the upper edge of the rear panel are five controls: the Drive and Delete buttons to the left of the EVF eyepiece and the focus mode selector (S. C and M), AF-On button and rear command dial to the right. The eyepiece is slight different from either the GFX 50S or GFX 100 providing lower magnification than the former (0.77x vs 0.85x) and lower magnification and resolution than the latter.
Five additional buttons are aligned vertically to the right of the screen arranged in order from the top: the focus joystick, AE Lock button, Menu/OK button, Display/Back button and Playback button. The Quick Menu button sits atop the generous thumb rest.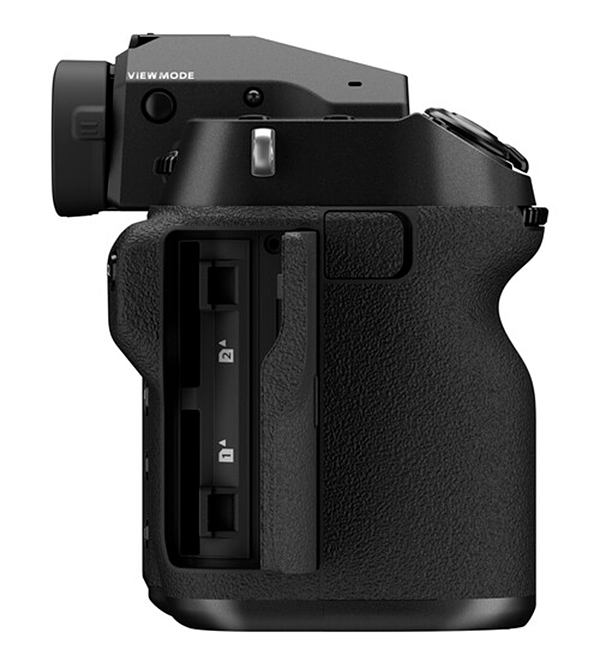 The right hand side panel of the GFX 100S showing the card slots and remote release connector. (Source: Fujifilm.)
Behind a hard lift-up cover in the right hand side panel are dual slots for SD cards with a Type D HDMI Micro connector above them. Both slots are compatible with UHS-I and UHS-II standards. The 2.5mm remote release connector is located in front of this compartment.
The card slot cover can be removed to provide access to the slots when the camera is mounted in a video rig or in other situations when it might be difficult to open or close the cover. A latch on the inner edge of the hinge is pushed down to detach it.

The left hand side panel with the interface ports exposed. (Source: Fujifilm.)
The left hand side panel has two lift-up lids attached by flexible tags. The top lid covers the 3.5mm microphone and headphone jacks, while the lower one shields the USB-C, HDMI (Type D) and X-sync terminals. A cable protector is provided with the camera to prevent accidental disconnection of cables when the camera is plugged into pains power or connected to an external storage device.
The GFX 100S uses the same NP-W235 battery as Fujifilm's X-T4 camera. It's smaller than the batteries in the other GFX cameras, which means the battery compartment can be in the usual location in the base of the grip moulding. Its capacity is somewhat lower, too, at 460 shots/charge compared with 800 shots/charge for the GFX100.
The battery is charged via the USB-C port using a supplied cable and AC adapter. However, unlike the GFX100, the GFX100S can't accept a vertical battery grip.
Sensor and Image Processing
The GFX 100S uses the same sensor as the GFX 100 – and also the same fourth-generation X-Processor 4 high-speed image processing engine. This means image size and quality settings are essentially the same in both cameras, as are file sizes.
The camera provides three image sizes: L, M and S, which deliver images that are roughly 102 megapixels, 50 megapixels and 12 megapixels, respectively. Different aspect ratio settings will result in different image sizes since they are obtained through cropping the frame. The 1:1 setting imposes the maximum crop, reducing the L images to 76.3 megapixels, the M images to 38.3 megapixels and the S images to just under 9 megapixels.
The ISO sensitivity ranges are the same as in the GFX 100 and include three customisable Auto settings. Extended sensitivity settings are only accessible in the mechanical shutter mode; even setting mechanical+electronic shutter mode prevents you from using the extended ISO settings. The normal 1/3-stop adjustments apply across the native ISO range with one-stops for the ISO extensions.
Continuous shooting speeds are the same as the GFX100's with a top frame rate of 5 fps when the mechanical shutter is used. This drops to 2.9 fps with the electronic shutter and 2 fps in the continuous low (CL) mode. Note that shooting in electronic front curtain mode limits frame rates to 2 fps.
Shooting in CL mode provides an 'endless' buffer capacity for JPEGs since frames are processed on-the-fly. But the buffer memory can only accommodate 45 compressed raw frames, even at that rate. At 5 fps, the buffer capacity is 42 JPEGs, 16 compressed RAF.RAW frames, 15 losslessly-compressed raw files or 14 uncompressed raw shots. Not bad for a 102-megapixel camera.
Video
The GFX 100S offers the same video features as the GFX 100 with the ability to record both DCI 4K (17:9) and 4K UHD video at up to 29.97p (25p for PAL format) with a maximum bit rate of 400Mbps. Frames are recorded with the full sensor width in both 4K and FHDS resolutions and the camera supports F-Log/HLG/ProRes RAW video formats, including 4:2:2 12-bit recording over HDMI. Internal recording to an SD card is limited to 4:2:0.
The increased speed of the X-Processor 4 enables faster read speeds when recording 4K video and this helps to reduce rolling shutter distortion when filming moving subjects. The camera also offers an IS Mode Boost function, which isn't explained in the user manual but appears to take advantage of the faster processing. It can be assigned to one of the function buttons to allow quick re-setting.
Aside from that there have been no substantial changes. Separate menus can be set up for stills and video shooting modes and this is something we recommend, having discovered the stills mode we were using didn't provide the AF accuracy required when we switched directly to movie recording without having set up the movie AF parameters correctly.
The GFX 100S records in AAC/H.264/H.265 (HEVC) codecs and has access to all 19 Film Simulations in movie mode. Digital IS (which crops the frame) is available in movie mode, as is IS MODE BURST
The smaller battery in the GFX 100S is able to provide enough power for movie recordings for approximately 60 minutes with 4K recording or 65 minutes at FHD resolution. Although we weren't able to test it, 4K RAW video footage at 12-bit depth can be output directly via HDMI to an Atomos Ninja V Recording Monitor. Users can also achieve simultaneous output of RAW footage and footage in F-Log or Hybrid Log Gamma (HLG) with a Film Simulation mode.
Playback and Software
Playback settings are basically the same as for the GFX 100 and include playback zoom with magnification depending on the image size, multi-frame playback, switching between card slots, raw conversion to JPEG or TIFF format and the standard erase, protect, rotate, resize, crop and red-eye removal settings as well as voice memo addition and copying between cards.
As usual, the software must be downloaded from the support page for the GFX 100S. Fujifilm provides the following applications: RAW FILE CONVERTER EX powered by SILKYPIX, FUJIFILM RAW STUDIO, FUJIFILM X Acquire, FUJIFILM X Webcam, FUJIFILM Pixel Shift Combiner, Tethered Shooting Software HS-V5 V for Windows, FUJIFILM PC AutoSave and MyFinePix Studio. Windows and Mac OS versions are available for all but the tethered shooting software and MyFinePix Studio, which are Windows-only.
Plugin software is also available for tethered capture with Photoshop CC and Lightroom for both Windows and MacOS.
Fujifilm used to bundle a dedicated version of Capture One raw conversion software with its higher-specced cameras – but it's not listed on the company's website for this camera. Note: Capture One for Fujifilm is available to purchase from the company's website – and it DOES support the GFX 100S. (But it's pricey!)
Fortunately, the latest update to Adobe Camera Raw, our preferred raw file converter included support for RAF.RAW files from the GFX 100S so there's no need to use the bundled software. We have consistently rejected the Silkypix-based option on the basis of extremely disappointing results from previous trials and, although we tried FUJIFILM RAW STUDIO we found it very slow and clunky.
Performance
As we found with the GFX 100, our Imatest software is unable to process test files recorded at 102-megapixel resolution. So we decided to get creative by trying out the highest quality settings at the Medium and Small image sizes, using the native 4:3 aspect ratio of the image sensor.
Medium JPEGs at Superfine quality with a 3:2 aspect ratio (8256 x 5504 pixels) captured with the GF 100-200mm f/5.6 lens delivered 45.4-megapixel files that our software could handle so our test results are based upon these images. Since raw files are always saved at the full resolution of 11,648 x 8736 pixels we were unable to include them in our test results, even though the camera is supported by the latest version of Adobe Camera Raw.
We also ran tests on Small JPEGs at Superfine quality (4000 x 2664 pixels) taken with the GF 32-64mm f/4 lens. In both cases, resolution comfortable exceeded expectations for the 45.4-megapixel and 10.7 megapixel files, confirming the camera's ability to deliver very high resolution at all JPEG sizes. Performance across the camera's ISO sensitivity range was also impressive, as shown in the graph of our test results from Medium Superfine JPEGs below.
Test results notwithstanding, it's difficult not to be impressed by a camera like the GFX 100S. The huge files contain abundant detail and nice tonal transitions. To show the resolution capabilities of the review camera we have provided cropped sections of some of the test shots after enlarging them in Photoshop. No editing adjustments were applied before the images were cropped.
We also found autofocusing to be quick and accurate – provided the correct settings were used – even in very low light levels. When shooting stills, the camera was good at picking up where to focus and tracking subjects as they moved into and out of frames and seemed more responsive than we recall with previous models.
Accurate focusing when shooting movie clips depended upon setting the optimal focusing parameters. Recording in P mode won't necessarily ensure this happens – as we discovered.
Long exposures at night showed the review camera to be similar to the GFX 100; maybe a tad better. Exposures at low and mid-sensitivities were clean and relatively noise-free with a decent amount of highlight and shadow detail. A 25% enlargement of frames showed little or no noise was present at ISO 1600. Shadow details had been lost by ISO 51200 and noise was evident but it became very visible at ISO 102400 with abundant JPEG artefacts.
The auto white balance control has three settings: Auto, White Priority and Ambience Priority. The White Priority setting produced close to neutral colour rendition under incandescent and fluorescent lighting as well as warm-toned LED lighting but the Auto and Ambience Priority settings failed to completely eliminate the warm colour casts from incandescent and LED lighting. The Auto setting also delivered close to neutral colours under fluorescent light.
There's no pre-set for LED lighting and the tungsten and fluorescent pre-sets tended to over-correct with their respective lighting types, although with the daylight fluorescent pre-set the adjustment was barely noticeable. Plenty of in-camera adjustments are available to fine-tune colour balance on the go. We the camera's auto white balance setting usually delivered natural-looking results in all the conditions we used it in (including mixed lighting situations). Manual adjustment was only required to correct unexpected colour casts.
The IBIS system also performed extremely well, enabling us to shoot both stills and video clips hand-held with shutter speeds as low as 1/8 second for stills and obtain a reasonably high percentage of usable shots. The slowest shutter speed supported for video recordings is ¼ second, which we didn't test.
Video clips shot with the review camera were at least as good as those we obtained from the GFX 100 – and in some cases better. Professional videographers should be comfortable with the wide range of settings available and the quality of the footage they can obtain.
Our timing tests were carried out with a 64GB SanDisk ExtremePro SDXC II UHS 3 memory card in one slot (assigned to JPEGs) and a 32GB Lexar Professional SDHC II UHS 3 card rated at 95MB/second in the other (assigned to raw files). Both cards have speed ratings of 300MB/s.
The review camera took less than a second to power up but shut down almost instantaneously. We measured an average capture lag of 0.17 seconds, which was eliminated with pre-focusing. Shot-to shot times averaged 0.35 seconds. It took approximately 1.8 seconds to process each Large/Superfine JPEG file and 2.6 seconds for each RAF.RAW file and 3.4 seconds for each RAW+ Superfine JPEG pair.
In the high-speed continuous shooting mode, the review camera recorded 64 Large/Fine JPEG images in 13.4 seconds before slowing. This is close to the specified five frames/second. Processing was completed within 21 seconds
Shooting losslessly compressed RAF.RAW frames with the mechanical shutter filled the buffer at 28 frames, which were recorded in 6.6 seconds. It took 14.6 seconds to process this burst. With uncompressed 14-bit RAW files, the camera recorded 20 frames in 4.8 seconds and took 20 seconds to process the burst.
Combining uncompressed raw frames with high-resolution JPEGs reduced the buffer capacity to 13 frames, which were recorded in 2.8 seconds, which is within specifications. It took 23 seconds to clear the buffer memory.
Conclusion
The price tag will be the most significant obstacle to purchasing the GFX 100S for most photo enthusiasts, although its size and the sizes of the lenses could make some think twice. Neither the camera nor any of the available lenses is ideal for shooting sports and wildlife. The camera is an ideal choice for commercial and wedding photography, particularly with one of Fujifilm's excellent prime lenses. The 32-64mm zoom lens is a good match for the camera for 'walkaround' shooting, whether it's street photography or fairly gently bushwalking. But make sure you have a comfortable backpack in the latter situation.
We think photographers who really need 102-megapixel resolution should seriously consider the GFX 100S if they want a more portable and manoeuvrable camera than the GFX 100. It's also worth considering as an upgrade to the GFX 50S or 50R – and a lot of camera for the money.
While higher priced than the 51-megapixel GFX 50S/R models, the GFX 100S is almost AU$6000 cheaper than the GFX 100. Its RRP is also lower than that of the most affordable Hasselblad medium format body and roughly one third of the price of the Leica S3.
Cameras at this level are seldom discounted, although you can probably save up to $200 is you shop around. It appears to be a bit cheaper to buy from one of the US websites but the savings you can make are probably not worth the hassle and the limited stock available is likely to be reserved or local customers. Avoid eBay as we found it more expensive than the highest local price. Your local camera store is definitely the safest place to buy.
SPECS
Image sensor: 43.8 x 32.9 mm BSI CMOS sensor with Bayer colour array, 102 megapixels effective, 4:3 aspect ratio, no AA filter, approximate pixel pitch 3.76 microns
Image processor: X-Processor 4
Lens mount: Fujifilm G mount
Focal length crop factor: 0.79x
Image formats: Stills: JPEG (DCF Ver. 2.0, Exif Ver. 2.32), RAF.RAW (16-bit / 14-bit), TIFF (8-bit / 16-bit); Movies: MOV (HEVC/H.265), (MPEG-4 AVC /H.264); MP4 MPEG-4 AVC/H.264, AAC; All Intra / Long GOP compression
Audio: Linear PCM (Stereo sound 24-bit / 48KHz sampling)
Image Sizes: Stills 4:3 aspect ratio: 11648 x 8736, 8256 x 6192, 4000 x 3000; Movies: [DCI 4K(17:9)] 4096×2160 @ 29.97p/25p/24p/23.98p, 400Mbps/200Mbps/100Mbps; [4K(16:9)] 3840×2160 @ 29.97p/25p/24p/23.98p, 400Mbps/200Mbps/100Mbps; [Full HD (17:9)] 2048×1080 @ 59.94p/50p/29.97p/25p/24p/23.98p, 200Mbps/100Mbps/50Mbps; [Full HD(16:9)] 1920×1080 @ 59.94p/50p/29.97p/25p/24p/23.98p, 200Mbps/100Mbps/50Mbps; Max recording time 120 min.
Aspect ratios: 4:3, 3:2, 16:9, 1:1, 65:24, 5:4, 7:6
Image Stabilisation: Image sensor shift mechanism with 5-axis compensation, CIPA rated for 6 stops; Digital IS and IS Mode Boost available for movies
Dust removal: Ultra Sonic Vibration
Shutter (speed range): Focal plane shutter plus Electronic shutter (60 min.-1/4000 seconds in S and M modes); Bulb up to 60 minutes; Electronic shutter speeds up to 1/16000 second; Electronic Front Curtain Shutter available; X-sync at 1/125 second
Exposure Compensation: +/-5 EV in 1/3EV steps (+/-2EV for movies)
Exposure bracketing: 2, 3, 5, 7 or 9 frames in 1/3EV steps across +/-3EV
Other bracketing options: Film Simulation, Dynamic Range, ISO, White Balance, Focus, Multiple Exposures, Pixel Shift multi Shot
Self-timer: 2 or 10 seconds delay
Interval recording: Yes (Interval, Number of shots, Starting time, Interval timer shooting exposure smoothing)
Focus system: Intelligent Hybrid AF (TTL contrast AF / TTL phase detection AF) with 425 selectable PD AF points covering almost all the sensor surface; PD system effective to -5.5EV, CD system effective to -2.5EV
AF point/area selection: Single point AF: 13×9 / 25×17 (Changeable size of AF frame), Zone AF: 3×3 / 5×5 / 7×7 from 117 areas on 13×9 grid, Wide/Tracking AF: Yes (AF-S: Wide / AF-C: Tracking), All; Face/eye detection
Focus modes: AFS (Single) / AFC (Continuous) / MF
Exposure metering: 256 -zone TTL metering with Multi, Centre-weighted, Average and Spot metering patterns
Shooting modes: Program AE, Aperture Priority AE, Shutter Priority AE, Manual Exposure
Film Simulation modes: PROVIA/Standard, Velvia/Vivid, ASTIA/Soft, Classic Chrome, PRO Neg.Hi, PRO Neg.Std, Classic Neg., Nostalgic Neg., ETERNA/Cinema, ETERNA BLEACH BYPASS, ACROS, ACROS + Ye Filter, ACROS + R Filter, ACROS + G Filter, Black & White, Black & White + Ye Filter, Black & White + R Filter, Black & White + G Filter, Sepia
Special effects: Monochromatic Colour, Grain Effect, Colour Chrome Effect, Colour chrome Blue, Smooth Skin Effect
Dynamic range adjustments: AUTO / 100% / 200% / 400% (ISO restriction: DR100%: No limit, DR200%: ISO200 or more, DR400%: ISO400 or more)
Clarity setting: +/-5 steps
Colour space options: sRGB and Adobe RGB
ISO range: Stills: Auto (ISO 100~12800), ISO 100-12800 with extensions to ISO 50, ISO 25600, ISO 51200, ISO 102400; Movies: ISO200~12800 plus extension to ISO 25600
White balance: AWB (White Priority / Auto / Ambience Priority), Fine, Shade, Fluorescent (x3), Incandescent Light, Underwater, Colour temperature 2500K~10000K, Custom (x 3)
Flash: Hot-shoe for dedicated TTL flash
Flash exposure adjustment: +/- EV in 1/3EV steps
Sequence shooting: Max.5 shots/sec. in CH mode with mechanical shutter (2.9 fps with electronic shutter)
Buffer capacity: Max. 42 Large/Fine JPEGs, 16 compressed RAW, 15 lossless compressed RAW or 14 uncompressed RAW files
Storage Media: Dual slots for SD, SDHC, SDXC cards (UHS-I / UHS-II / V90 standard compatible)
Viewfinder: 0.5 inch OLED EVF with approx. 3,690,000 dots; 100% FOV coverage, 23mm eyepoint, 0.77x magnification, -4 to +2 dpt adjustment, built-in eye sensor
LCD monitor: 3.2 inch Tilt-Type(Three Direction) 4:3 Touch Screen Colour LCD monitor with 2,360,000 dots plus 1.80 inch Monochrome 303 x 230-dot LCD sub-monitor
Interface terminals: USB Type-C (USB3.2 Gen1x1), HDMI Micro connector (Type D), 3.5 mm stereo mini connectors for microphone and headphones, 2.5mm Remote Release Connector, Hot shoe, Synchronised terminal
Wi-Fi function: Built-in IEEE802.11b/g/n (standard wireless protocol) Wi-Fi; Bluetooth v4.2 (Bluetooth Low Energy)
Power supply: NP-W235 rechargeable Li-ion battery; CIPA rated for approx. 460 shots/charge or around 60 minutes for movie recording
Dimensions (wxhxd): Approx. 150 x 104.2 x 87.2 mm
Weight: Approx. 900 grams with battery and card
Distributor: Fujifilm Australia; 1800 226 355.
TESTS
Based on Medium/Superfine JPEG files taken with the Fujinon GF 100-200mm f/5.6 R LM OIS WR.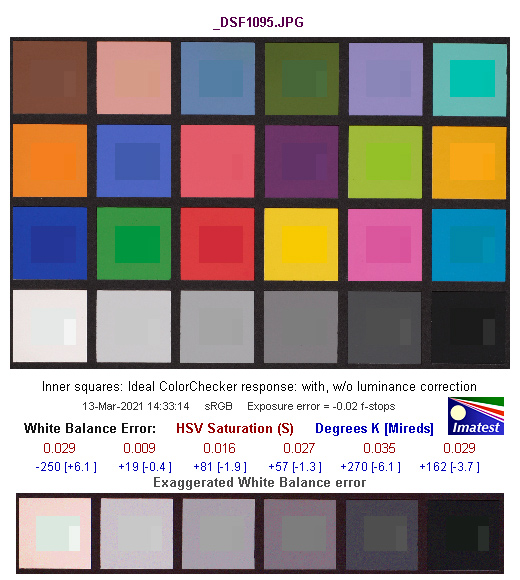 Based on Small/Superfine JPEG files taken with the Fujinon GF 32-64mm f/4 R LM WR lens.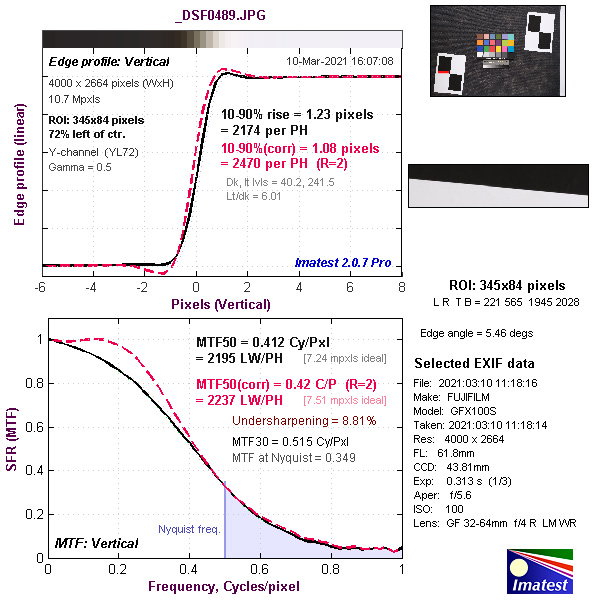 SAMPLES
The shots below were taken with the Fujinon GF 32-64mm f/4 R LM WR lens.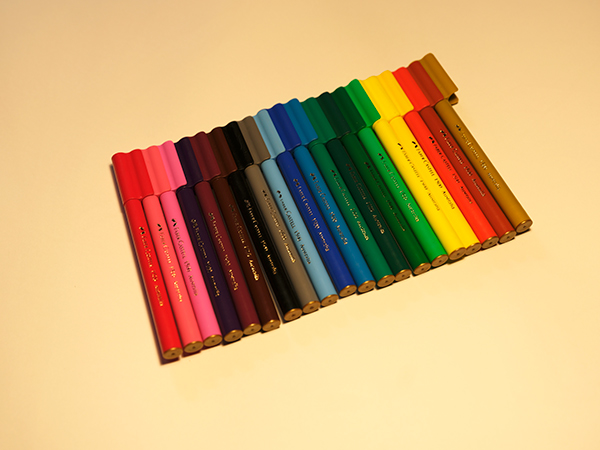 Auto white balance with incandescent lighting – auto setting.

Auto white balance with incandescent lighting – white priority setting.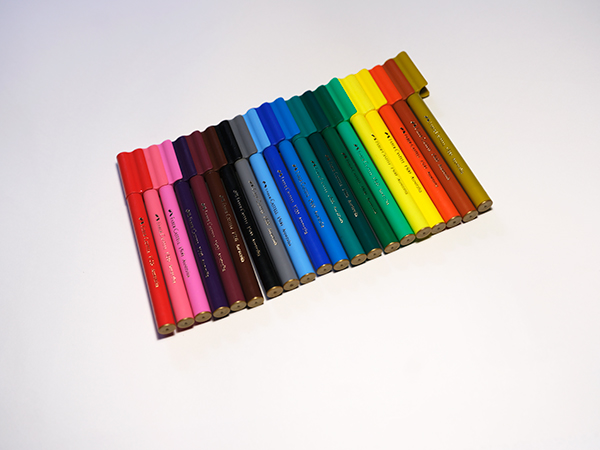 Auto white balance with fluorescent lighting – auto setting.

Auto white balance with fluorescent lighting – white priority setting.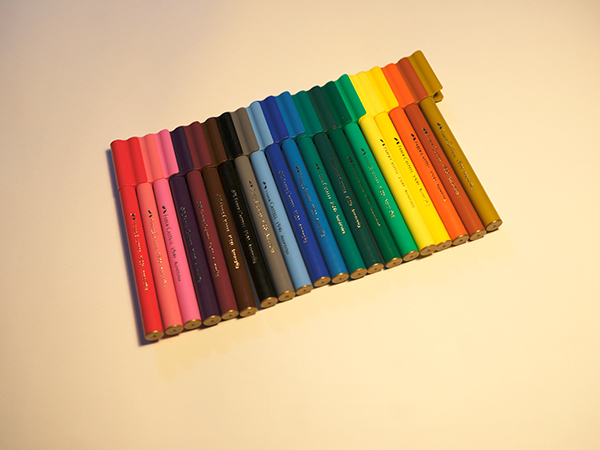 Auto white balance with warm-toned LED lighting – auto setting.

Auto white balance with warm-toned LED lighting – white priority setting.

64mm focal length, 30-second exposure at ISO 50, f/2.8.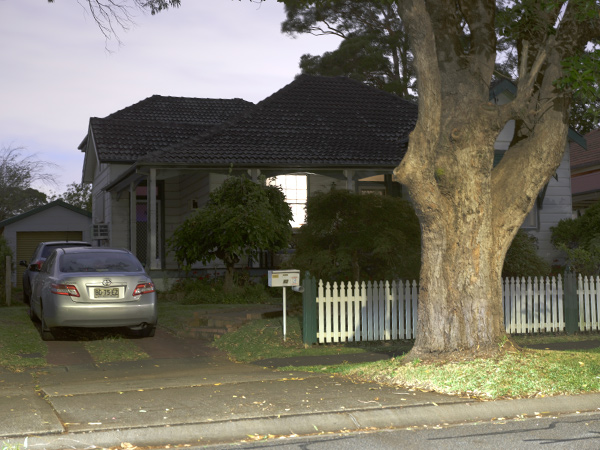 64mm focal length, 30-second exposure at ISO 100, f/4.

64mm focal length, 15-second exposure at ISO 1600, f/5.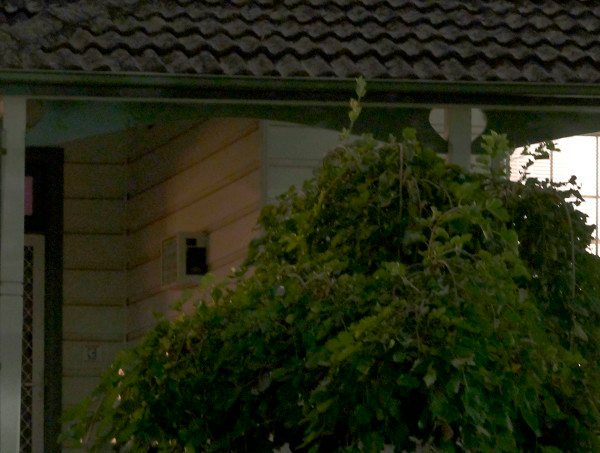 Crop from near the centre of the above image enlarged to 25%.

64mm focal length, 8-second exposure at ISO 6400, f/10.

64mm focal length, 8-second exposure at ISO 12800, f/11.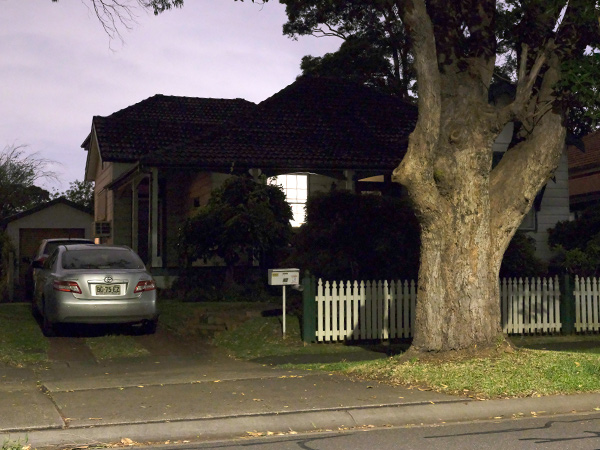 64mm focal length, 4-second exposure at ISO 25600, f/11.

64mm focal length, 2-second exposure at ISO 51200, f/11.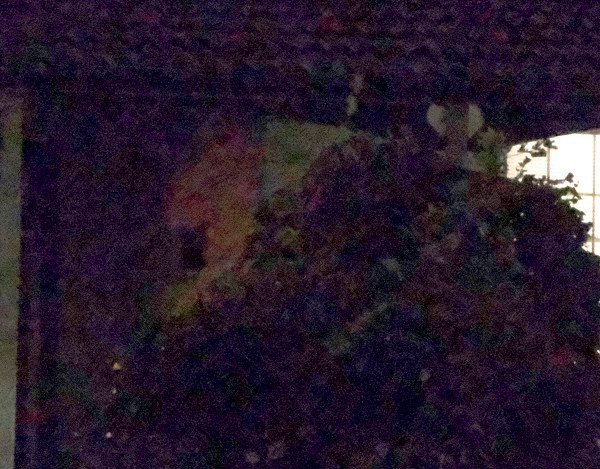 Crop from near the centre of the above image enlarged to 25%.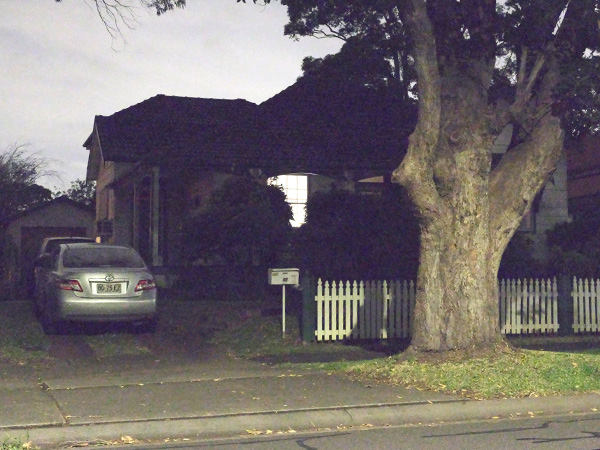 64mm focal length, 2-second exposure at ISO 102400, f/16.

Crop from near the centre of the above image enlarged to 25%.



16:9 aspect ratio; 32mm focal length, ISO 12800, 0.71 second at f/10.

7:6 aspect ratio; 32mm focal length, ISO 6400, 1.2 second at f/10.


65:24 aspect ratio; 32mm focal length, ISO 51200, 1/8 second at f/10.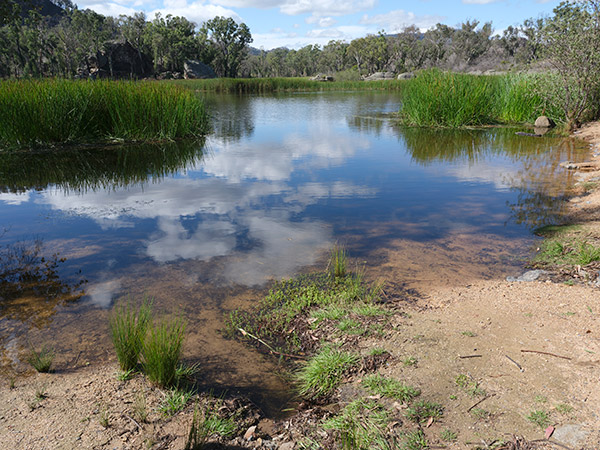 4:3 aspect ratio; 32mm focal length, ISO 100, 1/34 second at f/16.

Crop from the above image magnified to 100%

32mm focal length, ISO 100, 1/14 second at f/22.

Crop from the above image magnified to 100%

64mm focal length; ISO 200, 1/18 second at f/16.

32mm focal length,; ISO 200, 1/28 second at f/18.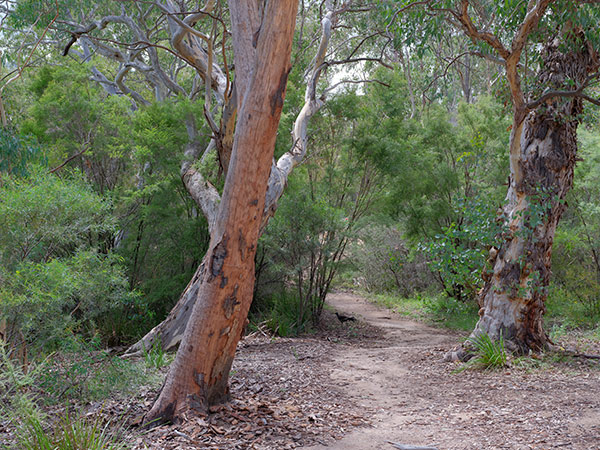 64mm focal length, ISO 200, 1/85 second at f/8.

64mm focal length, ISO 200, 1/20 second at f/26.

60mm focal length, ISO 5000, 1/640 second at f/8.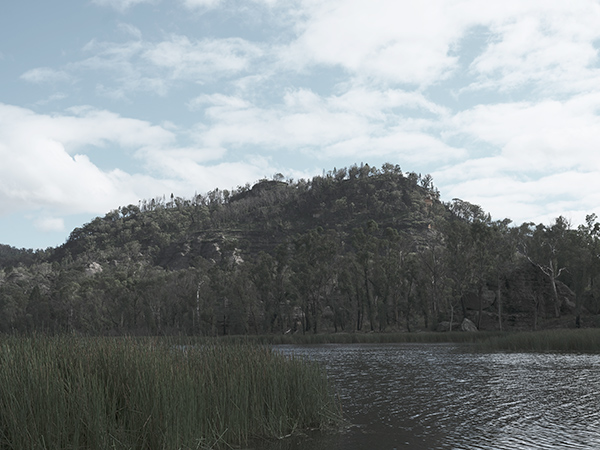 Eterna Cinema Film Simulation mode; 61mm focal length, ISO 200, 1/180 second at f/13.

Still frame from DCI 4K (4096 x 2160) 17:9 video clip recorded at 25p. Long GOP compression.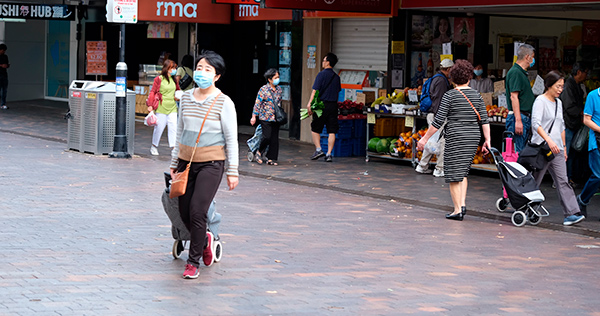 Still frame from 4K (3840 x 2160) 16:9 video clip recorded at 25p. Long GOP compression.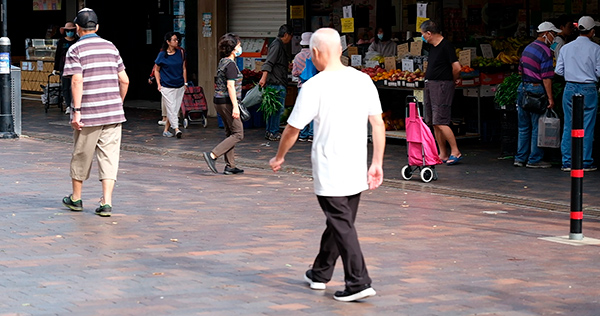 Still frame from DCI 2K (2048 x 1080) 17:9 video clip recorded at 25p. Long GOP compression.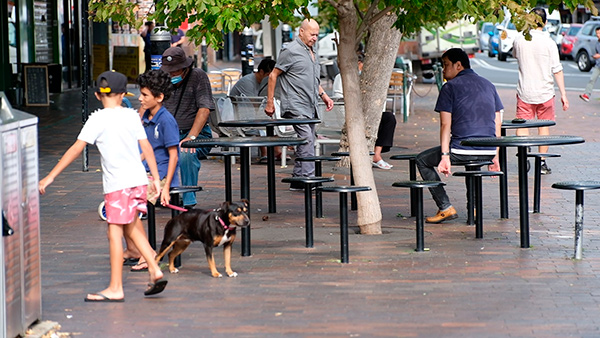 Still frame from FHD (1920 x 1080) 16:9 video clip recorded at 25p. Long GOP compression.

Still frame from DCI 2K (2048 x 1080) 17:9 video clip recorded at 50p, Long GOP compression.

Still frame from DCI 4K (4096 x 2160) 17:9 video clip recorded at 30p, All-I compression.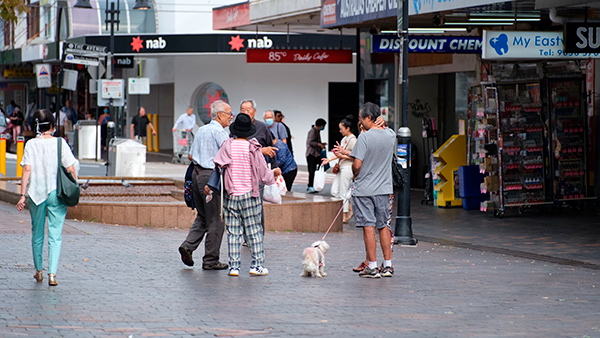 Still frame from 4K (3840 x 2160) 16:9 video clip recorded at 25p, All-I compression.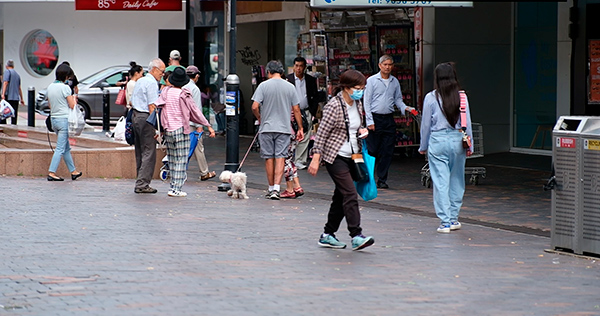 Still frame from DCI 2K (2048 x 1080) 17:9 video clip recorded at 50p with All-I compression.

Still frame from FHD (1920 x 1080) 16:9 video clip recorded at 50p with All-I compression.
Additional image samples can be found with our review of the Fujinon GF 100-200mm f/5.6 R LM OIS WR lens.
Rating
RRP: AU$9,499; US$5,999.95 (body only)
Build: 9.5
Features: 9.0
Ease of use: 9.0
Autofocusing: 9.0
Still image quality JPEG: 9.0
Still image quality RAW: 9.0
Video quality: 9.0
BUY