Due for release in late February is the new Fujifilm X-E4 camera, with two new XF lenses following in March.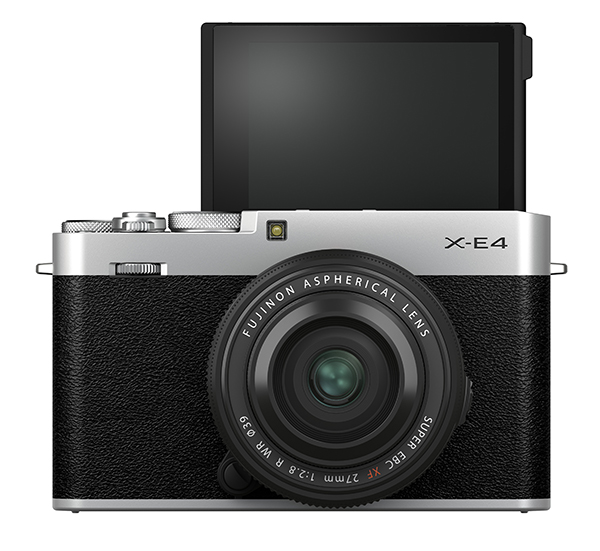 The latest addition to Fujifilm's X Series, the X-E4 is designed for content creators. The silver version is shown in this illustration. (Source: Fujifilm.)
Lightweight and compact, the fourth generation X-E4 camera features the same 26.1-megapixel, X-Trans CMOS 4 sensor as Fujifilm's professional X Series cameras but has simple controls, advanced Face and Eye Detection and a tilting LCD touchscreen. It also supports 4K/30p video and Full HD/240p super-slow motion recording. The rear tilting LCD touchscreen can be flipped upward and forward up to 180 degrees for high-angle and low-angle shots, as well as selfies and vlog-style videos. The top panel includes a Shutter Speed dial (S.S. Dial) that can be set manually or switched to Program Mode (P) if fully automatic functionality is required. The front and side dials give extra thumb space for added in-hand comfort.
The new Fujifilm X-E4 will be offered in black and silver versions for an RRP of AU$1399 (body only) or in kit form with the XF 27mm f/2.8 R WR lens for $1799. The camera body will also be available with the TR XE4 thumb rest accessory for AU$1599.


Top view of the Fujifilm X-E4 (black version) with the Fujinon XF 27mm f/2.8 R WR lens. (Source: Fujifilm.)
New Face and Eye detection technology enables the X-E4 to track subjects accurately, even in luminance levels as low as -7.0EV. The camera also oversamples 6K footage to record 4K/30P 4:2:0 8-bit video to internal media, or output 4K/30P 4:2:2 10-bit video via its HDMI port. Eighteen Film Simulation modes are included, including ETERNA Bleach Bypass, which reproduces a traditional dark-room processing technique.


The new Fujinon XF 27mm f/2.8 R WR lens. (Source: Fujifilm.)
Available in March, the new Fujinon XF 27mm f/2.8 R WR 'pancake-style' prime lens provides users with a natural field of view close to what the human eye sees. This makes it suitable for general use as well as portrait, street and landscape photography. One of the thinnest and lightest XF lenses in the collection, XF 27mm f/2.8 R WR, measures just 62 mm in diameter and is only 23 mm long and weighs approximately 84 grams. It is also weather-sealed in seven places, to protect it against ingress of water and dust and allow it to operate in temperatures down to -10°C.
Unlike some pancake lenses, the XF 27mm f/2.8 R WR has an aperture ring with an f-stop scale and an A (Auto) Position Lock, which can prevent unintentional adjustments to the lens's aperture. It is supplied with a dome-shaped lens hood (LH-XF27) and a hood cap (LHCP-27) and will be priced at AU$699 (RRP).


The new Fujinon XF 70-300mm f/4-5.6 R LM OIS WR lens. (Source: Fujifilm.)
Also arriving in stores in March is the new Fujinon XF 70-300mm f/4-5.6 R LM OIS WR lens, a compact and portable telephoto zoom lens that covers a zoom range equivalent to 107-457mm in 3mm format. Weighing only 580 grams and just 132.5 mm in length, the XF 70-300mm f/4-5.6 has an optical design that combines 17 elements into 12 groups and includes one aspherical element and two ED elements.
Featuring a fast-linear autofocus motor, up to 5.5 stops of optical image stabilisation and weather-resistance, this lens is ideal for sports and wildlife photography. It is also compati8ble with the Fujinon XF1.4x TC WR and XF2.0x TC WR teleconverters, which will extend the maximum range to the 35mm equivalent of 914mm. With either teleconverter attached phase detection AF continues to work, with no reduction in performance. The minimum focus distance of 83 cm provides a magnification of 0.33x, which is a 35mm equivalent half life size, which is great for dynamic close-ups. True macro magnification can be obtained with the XF2X TC WR teleconverter. The XF 70-300mm f/4-5.6 R LM OIS WR lens has an RRP of AU$1449. Click here for full details of Fujifilm's X-series products.