Serif has released version 1.9 updates to three of its popular software applications: Affinity Photo, Affinity Designer and Affinity Publisher.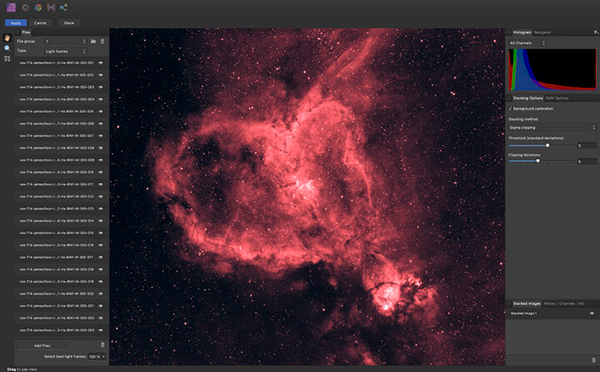 Affinity Photo gains a new mode to control the stacking of astrophotography images. (Source: Serif.)
RAW engine processing in Affinity Photo has been improved with new linked layer functionality and path text as well as a completely new mode for control how astrophotography images are combined during stacking. Version 1.9 also includes GPU acceleration which can achieve up to 10x speed improvements for Windows users on many pixel-based tasks. This brings the Windows versions into line with the GPU acceleration in the macOS and iPad versions of the apps.
Affinity Designer, the graphic design app, gets a new contour tool which offers an intuitive way to add contours and line offsets to any shape or path. Also added is the ability to place linked images and resources, reducing file size and simplifying collaborative working. In Affinity Publisher, IDML import will be noticeably faster and the new Package feature allows users to bundle all the image and font resources from a project into a folder which can be transferred easily to another system to aid collaboration or for print production. Placed PDFs can now be set to 'passthrough' ensuring 100% fidelity on export, and users can easily integrate text and image links into a document from an external data source with the new data merge feature.
All Affinity apps are currently available with 50% discount as an initiative to support the creative community during COVID-19. Click here to access the Affinity website.