On 20 April, Nikon will release a major firmware update for its flagship Z9 mirrorless camera adding 8K/60 RAW video capture, waveform displays and a 120Hz EVF mode.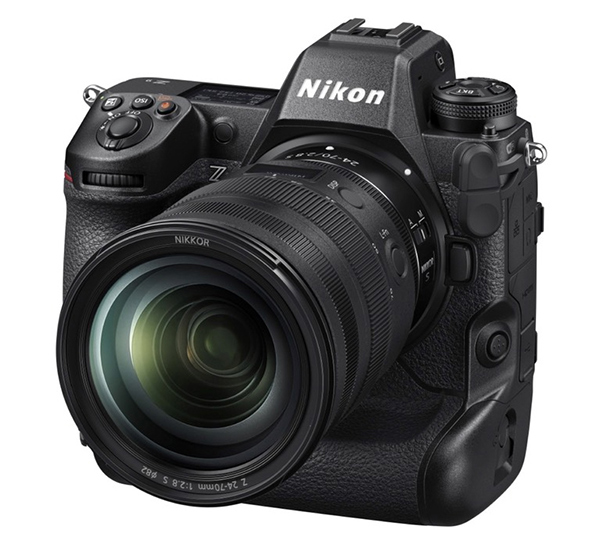 Firmware version 2.00 for the Z 9 will support in-camera recording of two different 12-bit RAW video formats — N-RAW and ProRes RAW HQ (for which the use of aProGrade Digital COBALT 650GB or ProGrade Digital COBALT 325GB memory card is recommended). The new format, Nikon's proprietary N-RAW, offers recording with a file size approximately half that of ProRes RAW HQ, providing longer recording time. It supports up to 8.3K/60p and 4.1K/120p when shooting in the FX-based video format. Up to 4.1K/60p can be supported in the FX-based video format with ProRes RAW HQ. A Full-HD MP4 proxy file suitable for transfer and editing is generated at the same time as RAW video file generation in either format. The new update also adds the ability to record in high-resolution 4K UHD/60p oversampled from 8K.
Other new features include displaying the red REC frame in the viewfinder and on the monitor during recording to indicate recording is in progress. Also, video recording settings, such as frame size and rate or audio, can be confirmed on a single screen with View Video Info. The Waveform Monitor can confirm the brightness levels according to the subject position. In addition, when recording video in M mode, ISO sensitivity can be adjusted in 1/6 steps, enabling finer exposure adjustment while preventing ISO from increasing more than needed.
Pre-Release Capture has been introduced for the first time in a full-frame mirrorless camera. This new feature prevents photographers from missing decisive moments by recording for up to a second before the shutter-release button is pressed all the way down during High-Speed Frame Capture+. This feature will be especially useful for sports photographers and birders The screen display for High-Speed Frame Capture+ is improved by adding the Release Timing Indicators, so that users can visually recognise the shutter release timing. In addition, version 2.00 allows one to jump to the first frame of each continuously shot sequence during playback. This makes workflow more comfortable for sports or bird photographers who tend to use high-speed continuous shooting.
Another addition is Custom Wide-Area AF, which is similar to the Custom Group-Area AF that is highly evaluated with the D6. The pattern of AF area arrangement is selectable from 20 options for stills and 12 for videos to capture principal subjects in a wide range of scenes. Since it also supports subject detection, users can nail the decisive moment with perfect focus by setting the AF area to a selected portion the frame. AF stability, tracking performance, and subject detection in low-light situations have also been enhanced. A new Motion Blend function overlays a series of subject movements during continuous shooting into a single still image in-camera without using editing software. In addition, with the Save Consecutive Frames function, frames in a selected section of footage can be saved as a series of JPEG still images while the playback is paused.
The new firmware will be available to download from the Nikon Download Centre from 20 April 2022.