BenQ has released details of its latest 27-inch professional 4K UHD display, the PhotoVue SW271C, which features screen-to-photo colour matching.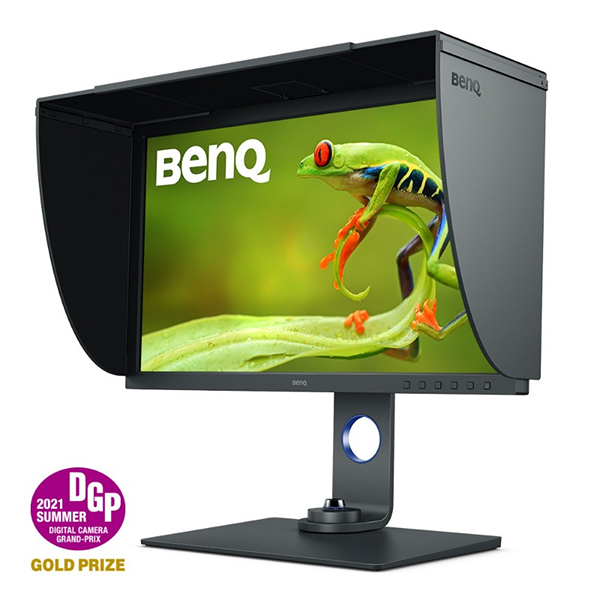 Angled view of the new PhotoVue SW271C monitor. (Source: BenQ.)
Replacing the popular SW271 screen, the new SW271C monitor features AQCOLOR technology for industry standard colour performance with expertly calibrated screen uniformity and colour consistency. It also includes Paper Colour Sync technology that provides paper-matched screen quality that ensures photographs look almost the same on screen as they will appear on paper. This is aided by special panel techniques that suppress reflection and glare.
The new monitor claims 99% coverage of Adobe RGB, 95% of DCI-P3 / Display P3 and 100% of sRGB colour spaces. SW271C's 10-bit colour depth and 16-bit 3D lookup table produce natural-looking colours with Delta E≤2 accuracy, while BenQ's uniformity compensation technology ensures high performance across the entire screen. Each SW271C monitor comes with an individualised factory colour calibration report and certifications from CalMAN and Pantone. The new SW721C monitors also include native support for HDR video with 24/25/30P in 4:2:2/4:2:0/4:4:4 compressed format to minimise jittering caused by 3:2 tear-down.
SW271C's GamutDuo function also enables simultaneous side-by-side viewing of the same image in two different colour spaces, such as Adobe RGB and sRGB. It also provides a black and white mode that is designed for previewing film effects before adjusting pictures. All of these colour modes can be instantly switched via BenQ's Hotkey Puck G2 to enhance efficiency. Operating from a single USB-C cable for video, audio, data, and power, SW271C is equipped with a height-adjustable stand and a detachable professional shading hood.
The BenQ SW271C will be priced from AU$2499 (RRP) and will be available in Australia from Image Science starting mid-late May 2021.
Click here for more information.