In summary
The Speedlite EL-1 ticks pretty much every box in a professional photographer's wish list. As well as being very well built and straightforward to operate, it's also the most adjustable on-camera flash currently available.
Its large rechargeable battery pack gives it plenty of stamina for wedding and event photography as well as indoor sports, while its robust weatherproofing enables it to be used for outdoor portraiture and nature photography. The range of adjustments for the flash head and the built-in modelling light combine with extensive wireless capabilities to make it a leader in versatility. Overall, it's an excellent product.
Full review
Designed to match the performance of Canon's flagship interchangeable-lens cameras, the Speedlite EL-1 has similar weather-resistant sealing, to in Canon's EOS-1D X series cameras.
With a competitive Guide Number of GN60, it is also the first flashgun capable of up to 170 full power flashes in sequence and features improved an active cooling system that uses an internal fan, which ensures consistent flash performance during extended periods of shooting. It also boasts recycle times of around 0.9 second and includes a tunable bi-colour LED modelling lamp that enables photographers to see where and how the light will fall on their subject.

The new Canon Speedlite EL-1 is the first with the 'red ring' branding used on professional 'L-series' lenses. (Source: Canon.)
Photographers using the new flash are able to adjust output across 14 steps of range with a new low-power option that reaches down to 1/8192th of full power. The EL-1 can also be connected to up to 15 other flashes for studio levels of performance, while radio wireless transmission supports a range of modes, including second-curtain synchro.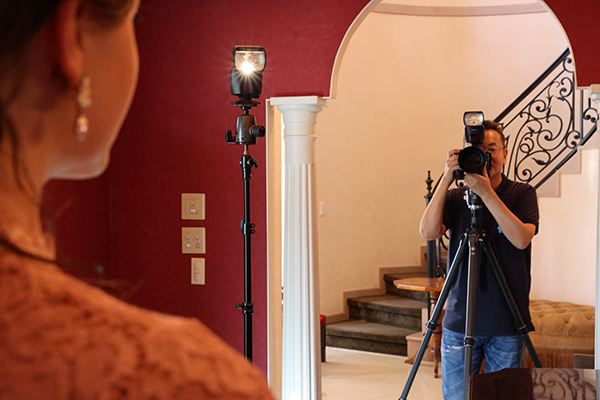 This illustration shows the Speedlite EL-1 being used as part of a multi-flash system. (Source: Canon.)

The LP-EL rechargeable lithium-ion battery pack supports approximately 335 flashes at full power or up to 2345 with the lowest output mode. A new joystick control and enhanced LCD screen provide a user-friendly interface that enables photographers to navigate the menu and change settings quickly.
The flash head can be swiveled through 180 degrees to left and right or bounced upward through 120 degrees and down through seven degrees. A bounce adaptor and two-colour filters – one providing slight warming and the other very noticeable warming of the light output – are included in the box. A built-in wide panel extends the angle of light distribution to accommodate wide-angle lenses up to 14mm focal length for full frame cameras.

This illustration shows the Speedlite EL-1 being used as a bounce flash. (Source: Canon.)
The Speedlite EL-1 is supplied with a printed Basic Operation Guide in 11 different languages. Unfortunately, it's VERY basic and inadequate for understanding this complex device. We'd recommend buyers of this flashgun download the Advanced User Guide, which is available from Canon's website.
Who's it For?
The high price tag and the size of the EL-1 put this flash solidly into the professional market. Weighing 687 grams all-up, its best partner is one of the EOS-1D X series cameras or an EOS R5 or, at a pinch, the R6 we used for our tests. It's a bit big and heavy for the less substantial EOS RP – and also much too complicated for amateur photographers.
Fortunately, its size, weight and price tag shouldn't deter the professional wedding and event photographers from checking it out. It could also be valuable for fashion photographers as well as providing the basis for a highly portable lighting system for product and interior photographers.

TheSpeedlite EL-1 in use for wedding photography. (Source: Canon.)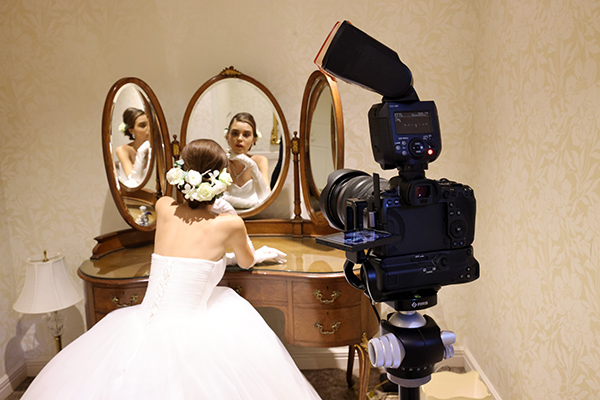 The Speedlite EL-1 in use for portrait photography. (Source: Canon.)

Portraitists could benefit from the high levels of flexibility in both the intensity and directions of the light. Photographers who take close-ups, either of products or for documentary/scientific purposes will welcome the broad range of light output adjustments, which will provide subtle fill-in lighting and add light to situations where traditional flashes would be too bright.

This pair of shots shows the effect of the stronger colour filter (lower image) compared with the unfiltered upper image. Both shots show the subtle brightening of the foreground created by the flash.
One category of photographers who could really benefit from the EL-1 is real estate photographers because they can use the supplied filters to add a subtle (or more obvious) warm glow to late afternoon property shots. The bounce capabilities will also be valuable for shots of interiors.
Cautions on Flash Use
While add-on flashguns have their uses, even the best ones also have limitations, largely due to the inverse square law: light falls off with the square of the distance. What this means it something four metres from the flash will receive one quarter of the light a subject two metres from it gets. This must be taken into account when using flashguns in low light levels.
While the EL-1 provides plenty of adjustments for light output, this can't overcome the limitations imposed by the inverse square law. Using a flash – ANY flash – requires the photographer to take this into account and decide when available light shots will be a better option, particularly if they can capture raw files. Some examples are shown below.

When it's dark and the subject extends over a range of 1.5-8 metres from the camera it's usually better to shoot raw files (top image; 40mm focal length, ISO 200, ½ second at f/6.3) than relying on the flash, which will probably over-expose the foreground and drastically underexpose the background (lower image; 40mm focal length, ISO 100, 1/60 second at f/7.1), as shown in these illustrations.

24mm focal length, ISO 100; top image: available light – 1/20 second at f/6.3; lower image: flash exposure – 1/200 second at f/6.3.

24mm focal length, ISO 100; top image: available light – 1/8 second at f/6.3; lower image: flash exposure – 1/60 second at f/6.3.
Build and Ergonomics
The Speedlite EL-1 is robustly built, as you'd expect from Canon's pro-grade equipment. Constructed mainly from engineering-grade polycarbonate its comprehensive weather-resistant sealing (shown below) enables it to be used in conditions that would challenge lesser flashguns.

These diagrams show the comprehensive weather-resistant sealing in the Speedlite EL-1. (Source: Canon.)
The battery has to be charged before use, after which it slots into the EL-1's body beneath a cover on the left hand side of the body. A locking lever must be moved down and to the right to open the cover.
Once the battery is installed, the EL-1 can be attached to the camera via the hot shoe and secured in place by sliding a locking lever to the right. It's secured by a locking button, which must be pressed before the ring can be reversed to remove the flash from the camera.
The adjustable flash head can be turned upwards through 180 degrees and down by seven degrees. It can also be rotated through 180 degrees to the left and right with click-stops at roughly 30-degree intervals. It is locked in place with a large button on the right hand side of the flash head.

This diagram shows the structure of the Speedlite EL-1 flash head. (Source: Canon.)
At the heart of the flash head is a xenon flashtube, with a curved reflector panel behind it and a Fresnel lens in front of it to diffuse the light and spread it widely enough to cover the angle of view of a 24mm lens (35mm equivalent). A pull-out 'wide panel' diffuser is stored in the top of the flash head to extend coverage to the equivalent of a 14mm lens.
Detector panels are embedded in the base of the flash head to sense the use of colour filters or the supplied bounce adaptor. Also in the base of the flash head are the blower fan and heat sink that make up the 'active cooling system', a new feature introduced with this flash, which enables it to deliver up to 170 full-power flashes in a burst without overheating.


This illustration shows the locations of key controls – including the new joystick – on the rear panel of the Speedlite EL-1. (Source: Canon.)
The main controls and battery are located in the body of the flash, which attaches to the camera via a hot shoe, enabling TTL flash control. The LP-EL battery is exclusive to the EL-1 and can provide enough power for up to 335 full-power flashes. Unlike many other flashguns, the EL-1 can't accept AA batteries so for extended shoots you may need to invest in a spare battery, which will set you back around AU$200.
Above the large LCD data panel is an embedded 'LINK' LED that confirms radio transmission, when the flash is used as part of a lighting system. The LCD panel can display status icons for the following functions: selected mode (E-TTL autoflash or continuous shooting priority), settings (GN/light distribution priority, bounce, filter, modelling lamp), synch, exposure compensation, range (metres or feet), charge indicator, flash coverage (focal length), battery level, flash exposure level or bracketing, aperture value, shutter speed.
Which functions are shown will depend on whether the flash is used in auto or manual mode or as a stroboscopic flash and whether it is used for remote transmission shooting by wireless or optical interfaces. A three-position switch just below the LCD panel turns power on and off, with the central Lock position available for disabling the button and dial functions to prevent accidental readjustment.
The joystick is used to select the various operational modes as well as selecting individual settings for each mode. In the stroboscopic mode, users can set the output, number of flashes and flash frequency. The manual (M) control mode provides complete user control over flash output, firing mode and exposure level
On the front panel of the EL-1's body are two sensors: a recessed receiver for metering external flashes plus an optical transmission wireless sensor. Below the wireless sensor is an AF-assist beam emitter light behind a transparent red panel. Also on the body of the flash are an external power source socket and a flash sync terminal, each with plastic covers. There's no terminal for a remote release cable.
In use, the EL-1 felt a little unwieldy on the EOS R6 camera with the RF 24-240mm f/4-6.3 IS USM lens. However, the flash itself was easy to use, thanks to its straightforward control system, coupled with the excellent interaction between it and the camera. It was easy to check flash settings in the viewfinder without having to lower the camera and use the data panel on the flash.
The joystick made it quick and easy to move between the controls for flash exposure compensation, zoom settings, bracketing and sync modes. Adjusting the angle of the flash head was also easy since the locking button was placed within easy reach of the user's right hand fingers.
Special Features
The Speedlite EL-1 includes a number of convenient features, which are outlined below.
The Quick Flash function enables the flashgun to fire before it is fully recharged. Naturally, this will mean a reduction in light output – usually to between ½ and 1/6 of full output, depending on recharging speed. This function is not available during stroboscopic or wireless flash modes.
Automatic recognition of the size of the attached camera is another feature of the EL-1 that can assist some photographers. The flash is able to detect which of the three sensor sizes compatible Canon cameras has when connected – as well as the effective angle of view of the attached lens – and will set the coverage of the flash to match these parameters. The range over which this operates is equivalent to 24-200mm in 35mm format.
Colour temperature detection and transmission is provided to optimise white balance settings during flash usage. When the camera's white balance is set to auto, auto white priority or flash, this function is enabled automatically and information is exchanged between the camera and flashgun to ensure natural-looking results.
The EL-1 can also fire an AF-assist beam to help the camera to focus the lens in difficult lighting. Its effective range at 28mm (the shortest supported focal length) is between six to 10 metres for subjects in the centre of the frame, with some fall-off towards the periphery.
Close subjects can be difficult to photograph with regular flashguns due to lack of control over light output. As well as allowing users to adjust output levels down to 1/8192 of full power, the EL-1 also lets users tilt the flash head down through seven degrees for shooting subjects within a range of 50 cm to two metres from the camera.
A pull-up catchlight panel behind the wide panel in the flash head provides a white reflective surface that creates attractive catchlights in the eyes of portrait subjects. It's most effective when the flash head is pointing directly at the subject and the subject is roughly 1.5 metres from the camera.
The supplied bounce adapter is a clip-on plastic diffuser that is used to spread the light over a larger area and, at the same time, reduce the harsh contrast of shadows produced by the flash. It's usable with the catchlight panel but also works best at distances up to 1.5 metres (although we found it to be effective at just over two metres). Flash coverage is set automatically when the bounce adapter is fitted.
The modelling lamp – which shows how light from the flash will fall on the subject – is switched on by pressing a marked LAMP button to the left of the joystick. Once pressed, it will continue to shine for up to five minutes by default but the time can be extended to 30 minutes or 'unlimited' (which depends on battery capacity. It turns off when a shot is taken but can be switched off with a second button press.
Users can adjust the brightness and colour of the modelling lamp via two five-step bars in the LAMP sub-menu. Each bar is selecting with the joystick and adjustments are made by turning the surrounding dial.
Performance
We were limited in the range of tests we could run with the review unit because of a lack of suitable subjects and situations in which the flash could be used. There was no way for us to test the wireless capabilities of the flash, nor its performance in a professional lighting set-up. Our tests were limited to hand-held shooting of a small selection of subjects with the EL-1 on an EOS R6 camera fitted with the RF 24-240mm f/4-6.3 IS USM lens.
Consequently, we've included some of the sample images Canon provided in the press kit they sent us to illustrate the versatility of the EL-1. Each image used has been credited accordingly. Our test shots were taken mostly with the flash in ETTL mode and the zoom control set to Auto. This enabled us to evaluate how well the unit could communicate with the camera to accommodate different subject types and lighting conditions.
Provided the subject was within range, TTL exposure accuracy was consistently excellent in our tests, which included shooting in very low light levels. We found the colour quality of the flash remained consistent across the 24-240mm zoom range we used in the course of our tests, even when minimal power output was required for fill-in flash. Used as a fill-in flash, the EL-1 delivered a subtle light that never overwhelmed the subject but retained a natural-looking balance between daylight and flash.
Recycling times were generally very fast and the flash was ready to fire again in less than a second, even after a full-power burst. The modelling light came in handy for framing and focusing on close-ups in low light levels.
Conclusion
Please Login or Register to access the Conclusion.
SPECS
Flash head: Zoom (Auto/Manual control); Wide Panel (Manual control)
Flash coverage: 24-200 mm zoom; 14mm with wide panel
Output: GN 27.3-60 (ISO 100/m) with zoom: 14.1 (ISO 100/m) with wide panel
Max. continuous flash count: Approx 170 times
Features: Dust and water resistant, catchlight panel, modelling lamp, modelling flash, external flash metering (auto/manual), continuous shooting priority (CSP) mode, FE lock, FE memory, IR assist beam
Firing control: E-TTL autoflash, Manual flash, stroboscopic flash
Exposure compensation/bracketing: +/- 3EV
Synchronisation: 1st curtain synch, 2nd curtain synch, high-speed synch
Bounce angles: 120 degrees up, 7 degrees down, 180 degrees to left and right
Radio transmission: Sender/receiver, auto channel, manual channels 1-15, 5 groups, 2nd curtain synch, linked shooting
Optical transmission: Sender/receiver, Channel 1-4. 3 groups
Power source: LP-EL Rechargeable lithium-ion battery (supplied) with level indicator
Firing interval: 0.1-0.9 second (Max. 0.8 sec. with Quick Flash)
Flash count: Approx 335-2345 times
Interface connections: External power source terminal, PC terminal
Accessories supplied: Colour filters (x2), bounce adapter, mini stand, LC-E6 battery and charger, semi-rigid carrying case
Dimensions (wxhxd): 84.4 x 149.0 x 136.4 mm
Weight: 687 grams with battery
RRP: AU$1879; US$1099
Distributor: Canon Australia; 1800 021 167
SAMPLES
The sample images below were taken with the RF 24-140mm f/4-6.3 IS USM lens

Bounce flash with the adapter and the camera aperture priority auto mode; EOS R6, 170mm focal length, 1/60 second at f/7.1, ISO 6400.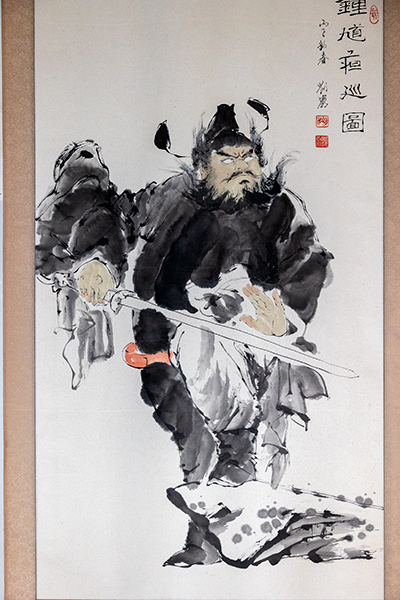 Copying artwork; EOS R6 with the camera aperture priority auto mode, 70mm focal length, 1/60 second at f/6.3, ISO 3200. CR3.RAW file; -0.3EV exposure compensation.

Close-up ETTL auto mode with the camera aperture priority auto mode; EOS R6, 135mm focal length, 1/200 second at f/6.3, ISO 6400.

Close-up ETTL auto mode with the camera aperture priority auto mode; EOS R6, 213mm focal length, 1/200 second at f/8, ISO 1000.

Close-up ETTL auto mode with the camera aperture priority auto mode; EOS R6, 240mm focal length, 1/200 second at f/6.3, ISO 2000.

Close-up manual mode with -0.3EV compensation ; EOS R6, 240mm focal length, 1/200 second at f/6.3, ISO 500.

The same subject with the same settings but a wider angle of view; EOS R6, 24mm focal length, 1/80 second at f/6.3, ISO 160.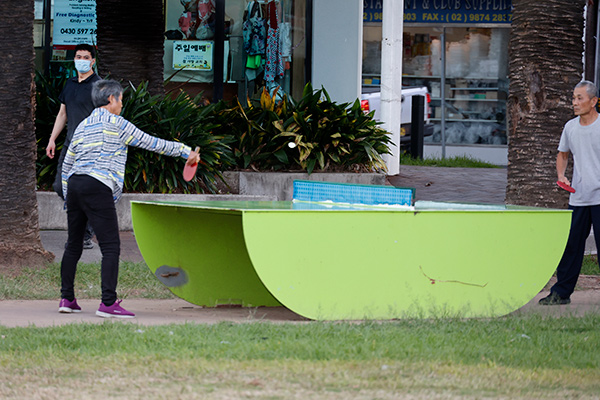 Low light action shot; 200mm focal length, 1/200 second at f/6.3, ISO 1600.
The sample images below were supplied by Canon to illustrate different applications for the Speedlite EL-1.



Wedding; EOS R5, 70mm focal length, 1/250 second at f/4, ISO 160.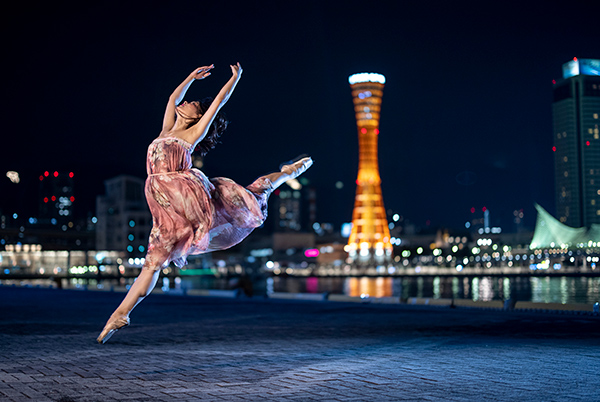 Action; EOS R5, 50mm focal length, 1/100 second at f/1.2, ISO 800.

Fashion; EOS R5, 50mm focal length, 1/200 second at f/1.2, ISO 250.

Theatre; EOS R5, 50mm focal length, 1/6 second at f/1.2, ISO 1600.

Low-light portrait; EOS R5, 70mm focal length, 1/100 second at f/2.8, ISO 6400.

Close portrait; EOS R5, 50mm focal length, 1/50 second at f/1.6, ISO 6400.
Rating
Build: 9.0
Ease of use: 8.8
Features: 8.9
Performance: 8.9
BUY