What I like most here is the clear structure of data in the timeline. Everything is organized clearly and there are even sidebar links to switch between recent posts and popular posts.
Read more: 33 Concept Redesigns of Popular Websites
But some of the sidebar elements do come off as slightly confusing. For example, a green button with a single plus sign right beside a "follow" button. One uses just a symbol, the other just text. This feels incongruent with the design style and other profile info.
Streamlined Profile Page
Timeline posts can be sorted by "recent" or "popular" based on your preference. This is big for usability, especially in the wake of Twitter's backlash against the recently-mandated algorithm change.
Also many of the buttons display larger with extra padding and bigger typography. Since Facebook is meant to be interactive it only makes sense to increase visibility of items like buttons and hyperlinks.
Overall this concept feels compact and lighter in bloat. It would be nice to see Facebook place more of a focus on interactive elements and maybe increase their font sizes, too.
The design is striking but can be off-putting to some users. It relies on multiple page columns to organize the user's profile links, along with a timeline view of recent posts. All the colors and elements stay true to Facebook's design styles. It certainly feels like a Facebook timeline page.
In this design he places more focus on simplicity by highlighting the page owner with a more prominent header photo and profile pic.
Multi-Column Timeline
Facebook's homepage is the initial timeline view that users see when first visiting the website. It includes recent posts from friends, a chat list, games, ads, and other relevant info like upcoming birthdays.
Larger websites like Facebook deal with much more data and a userbase that wants easy access to that data. In the homepage redesign by MagicVoltage you'll find one consistent feature: lots of content crammed into one page layout.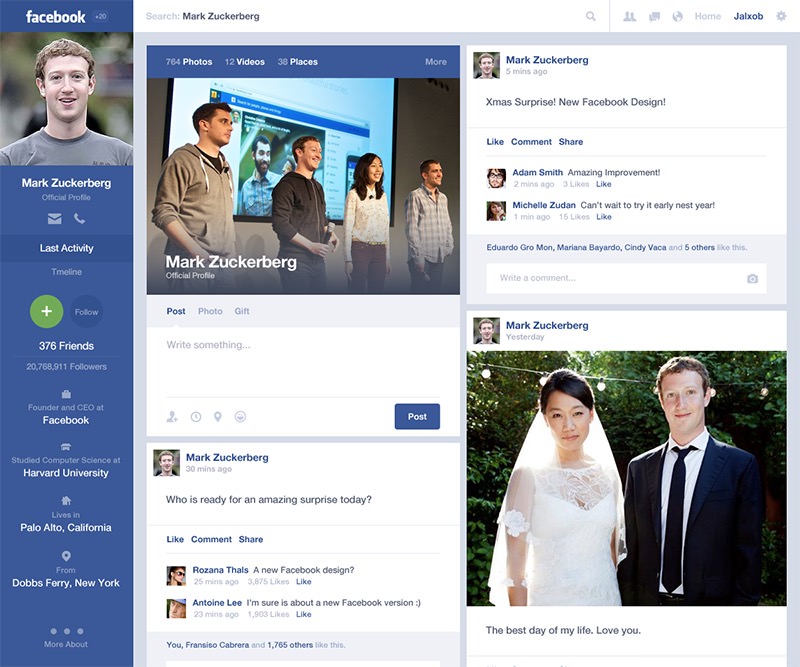 This profile page redesign comes from Haris Jusovic, a designer from the Balkan region of Europe.
Veering towards a vertically columnal layout is Alejandro Osorio's redesign. This layout represents the profile timeline view that Facebook users see when they visit a user's profile page.
Content-Dense Redesign
But in defense of this design it handles densely-packed content very well. There's plenty of whitespace between elements and it runs a four-column design brilliantly.
The busy-ness of this layout is what makes it both great and potentially controversial. Having all this content on one page makes it super easy to navigate – once you actually learn where everything is located. And the top-left icon links are just vague enough to dissuade anyone from interacting with them.
This so-called Facebook 2.0 redesign created by Marcelo Silva is really a sight to behold. His demo layout displays an updated homepage with a timeline
There's a lot to learn by studying the work of other designers. This is true of both professional projects and spec designs for existing websites. Large sites like Facebook serve a very particular user experience with some good elements, and other not-so-good elements. In this post, I'd like to examine different Facebook redesigns to analyze interface concepts that could improve the current user experience.
Voluminous Navigation
I've pulled a handful of custom FB redesigns from Dribbble users, each with specific enhancements and updated UI elements. Take these ideas into consideration for how they look, how they might function, and how they could impact usability if implemented live on Facebook.