We're going to take a look at the features and functions of ADM that every Android user should know:
Tap on Security under the Services option and here you can see Android Device Manager (ADM) if it is installed on your Android device. If you cannot see ADM, it means it is not installed on your Android device and you can install it from here.
Note: ADM requires Android 2.3 and above to function.
How to track location of lost device with ADM
How to bypass lockscreen with ADM
How to ring your device remotely with ADM
How to erase data via ADM
On the mobile app, sign in via Guest Mode and enter your Google Account details to track the location of the lost device.
Setting up ADM
For iOS devices, owners can track their iPhone, iPad or Mac with the Find my iPhone app. For Android users, the lesser-known equivalent is the Android Device Manager. Android Device Manager or ADM has been available in the Play Store since December 2013. In newer Android devices, ADM is pre-installed into your device.
You can check the current location of your Android device without refreshing the page or signing in again. Click on the location icon button on the right to see the location of your device.
If you do not have any laptop/desktop computer around and you want to access Android Device Manager on another phone, you can download the app here instead of using it on a mobile browser.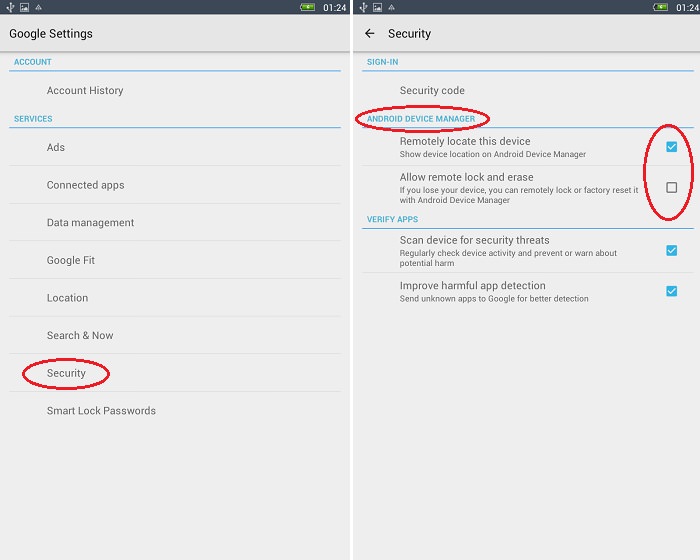 here (ADM web version) to start. Sign in with the same Google account you used on your lost Android device. If your Location is on, the location of your Android device is displayed on Google Maps, accurate to 20-25 meters of the precise location.

Access via Mobile Browser
The best thing about owning a mobile device is the mobility it provides; the worst thing is that being mobile raises the chances of you losing your devices in unimaginable ways. In circumstances where you actually lose a device, there are many third-party apps that can be used to track lost or stolen devices, but there are also dedicated tools for iOS and Android users.
Once you are done with setting up ADM successfully, it is time to explore features and functions of ADM one by one. By default, Remotely locate this device is enabled and Allow remote lock screen is disabled.
First, we need to setup ADM. To verify that ADM is installed on your device and enabled to work properly, go to the Google Settings on your Android Device.