Our Lady of Grace was commissioned by the City of Montreal through The A'Shop Crew. The mural was made by a group of artists with over 25 years of combined experience in urban aesthetics.
Art has been changing its appeal to the man on the street. You no longer have to visit museums and art galleries to get a taste of contemporary art. You can easily find wall paintings, graffiti and murals that resonate with your feelings, cultures, beliefs, as well as with the changing times.
Once again, another work by Conor Harrington, featuring a Roman soldier with a contemporary feel.
1. Our Lady of Grace, City of Montreal
A station in Paris, France, the Vitry sur Seine is home to artworks by portraits of people. Here is one example by a piece done by the artist known as "C215″.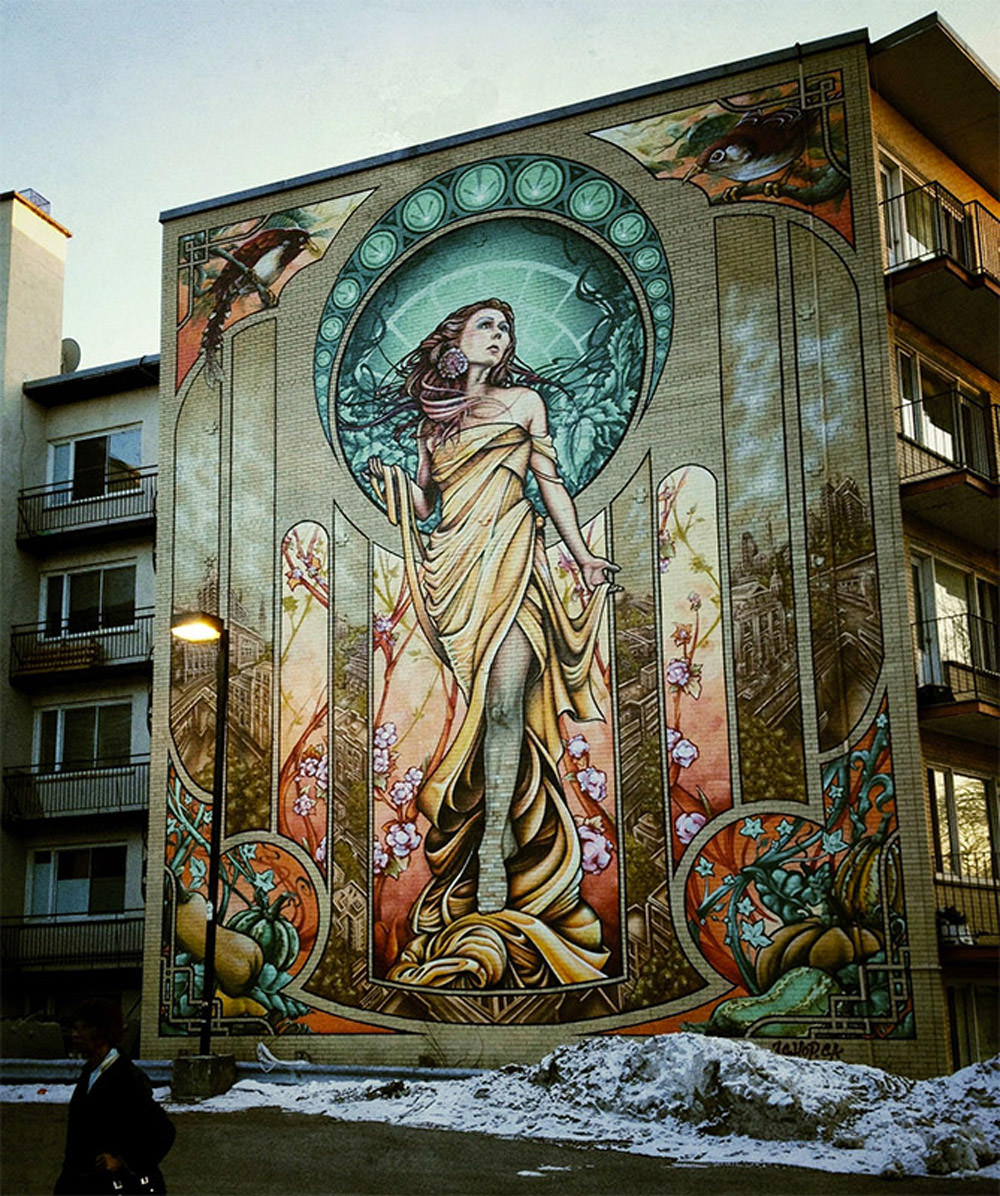 2. Large Chicken Mural in Katowice, Poland
A lot of these street art are straight from the fantasy realm, and they're all beautiful! If we forgot to add your favorite, please feel free to post them on the comments below!
3. Shoreditch Street Art, London
An artwork done for a cause, this optimistic piece was done by street artists for the RISE festival in New Zealand which aims to encourage amazing street art.
4. Wonderwalls (2013) in Wollongong
A haunting piece from the Chichester Street Art Festival which was held in West Sussex, England. This shows a mechanical locust traveling in a pollution-infested world.
5. Street Art in Norway
A whimsical take on a "Zombie Attack", this street art was done by Aryz and Nychos and owes its inspiration to famous zombie movies among others.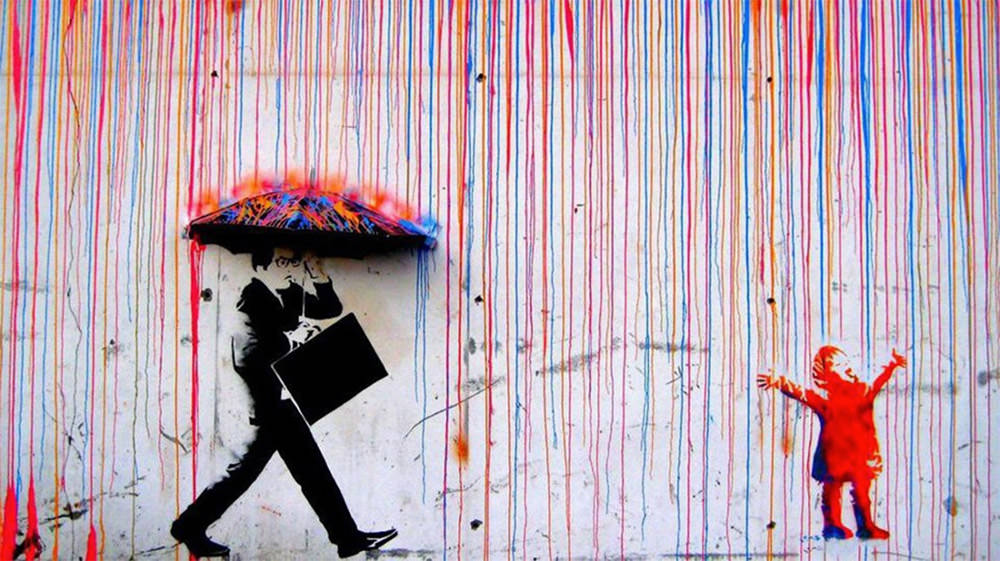 6. ROA Street Art in London
Here are 30 bizarre, creative, and eye-catching street art that the world can totally live with.
7. East End Street Art
Another popular tourist attraction, the Shoreditch Street Art even has a dedicated "tour" and offers to show more than "10 years" of stories from its street art.
8. Circus-Themed Mural in Athens, Greece
Street Art need not be that colorful, sometimes even a few colors can bring out the most powerful pictures. This duel between two gentlemen was made by Conor Harrington, an Irish born graffiti artist based in London.
9. Shoreditch Street Art
Another great example of the diverse art in Shoreditch. This time, get lost in a combination of colors from what appears to be robots and wires.
10. Love Letter Street Art in Poland
This was done by famous Muralist "The Mystical Seer" and is often popular with young people with his insane "3diZm" and mix of colors. This piece is entitled "Cold Fire".
11. Unique Murals & Unusal Street Art 03 Shaka
More than just a way to express art skills, this particular art is a testament to the human propensity to fight until the last second.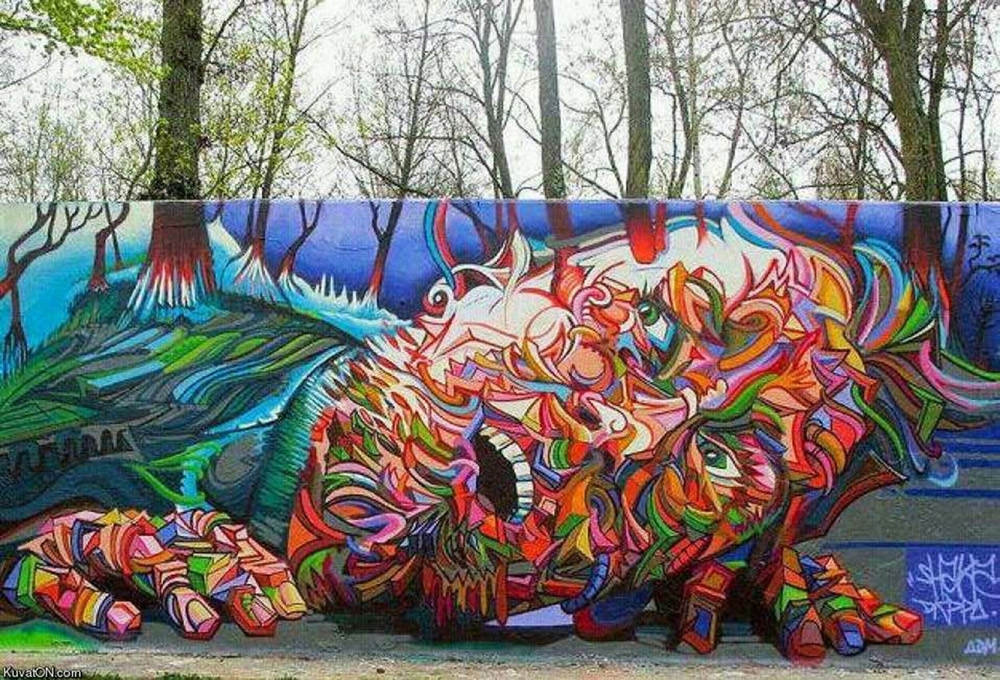 12. Deuce Seven
A beautiful and surreal mural in an otherwise dull neighborhood in Poland. The colors used are vibrant, plus the subtle humor of the egg inside the chicken never fails to deliver a chuckle.
13. Cold Fire – The Mystical Seer
This is an ongoing gag on the internet forums where a sloth wears an astronaut's suit. But now, it has invaded the streets!
14. Colorful Bear in Toronto
Another spectacular street art in Poland by Aryz. The composition describes a woman reading a love letter in a somber manner.
15. El Devenir – Liqen – Quartiere San Basilio, Roma
Talent on a back wall of an apartment in London. The art pops out of its "canvas" because of the masterful use of shading, and clever use of space to give that 3D effect.
16. Zombie Attack
Another bizarre art piece, this time by Aryz which was made for G40, a yearly group art show.
17. ARYZ in Uptown Richmond
Done by the artist named "Liqen", this piece is his interpretation of the famous "wall street". It is heavy in symbolism and works well with his choice of grey and monochrome.
18. Street Art, Conor Harrington for Wood Street Walls, East London, England
Another captivating work, this time in East End London. It captivates with stunning colors and a woman's face and piercing eyes.
19. Hope Dies Last in Athens, Greece
They often carry a message for the common man: live a little, open your eyes, breathe, play. And yet, there are still places where there is little appreciation for street art. This boggles the mind because some of the street art you see here are hard to miss and doubly hard to ignore.
20. Street Art in Hanway Street
Is it a metal sculpture? No. Is it a 3D render, printed, then posted on a wall? No. It's a painting… and I know, it boggles my mind too. It's a 3D metallic dog that isn't actually 3D but totally looks 3D.
21. Chichester Street Art Festival, 2013 Liqen
An artwork in monochrome that seems to be heavily inspired by either the industrial revolution or today's growing pollution problem.
22. Vitry sur Seine
An artwork done by "ROA", an artist in Belgium. Here we have what appears to be a mutilated rat that's painted in detail.
23. Surreal Street Art with Tree
When you put a bear within a bear and make it as colorful as you can, everyone that passes by it will be infected by how quirky it is.
24. ROA Street Art
Deuce seven is a pseudonym of a famous Street artist based in Minneapolis. Here is an example of one of his works on the Clear Channel board.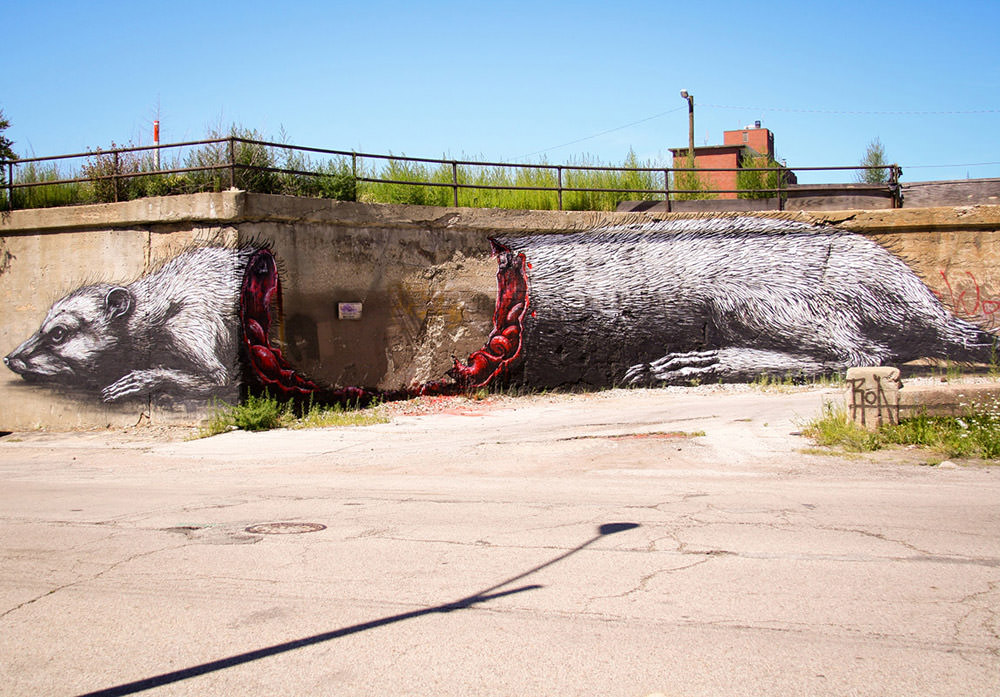 25. Sloth Astronaut
It's a beautiful thing when street art makes use of their surroundings to better emphasize the art. Also, this is something straight out of an LSD trip.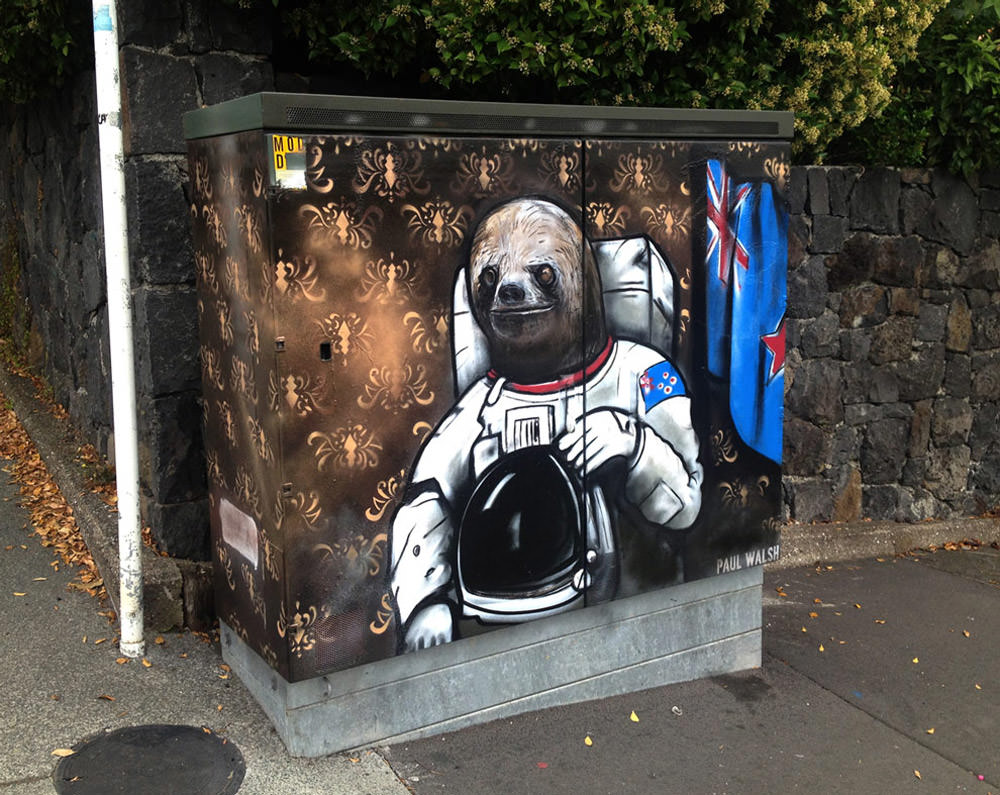 26. M City Welling Court Mural
This photo captures what is essentially a mural that's heavily inspired by the Circus. Despite the fun they bring us, there is sadness amongst the performers.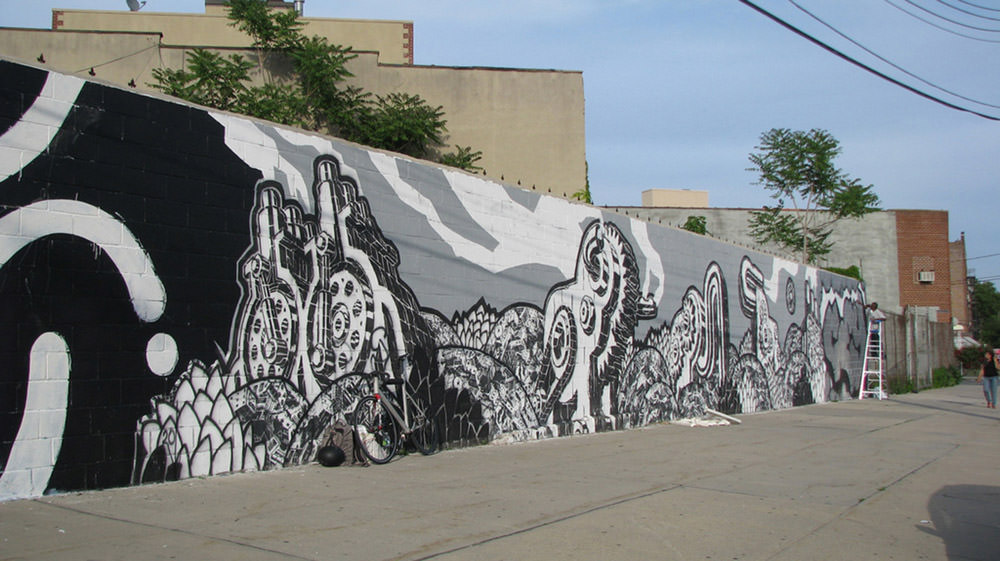 27. Catching Rain Drops
Another art piece by "Liqen". This time it appears to be heavily inspired by nature and all things floral.
28. Miami, Wynwood Walls – Labyrinth of Wall Street
A collaboration between two artist namely Shida and Adnate, their captivating work has become quite an attraction in the streets of Wollongong, Australia. Here is woman working the magic for the Wonderwalls Festival.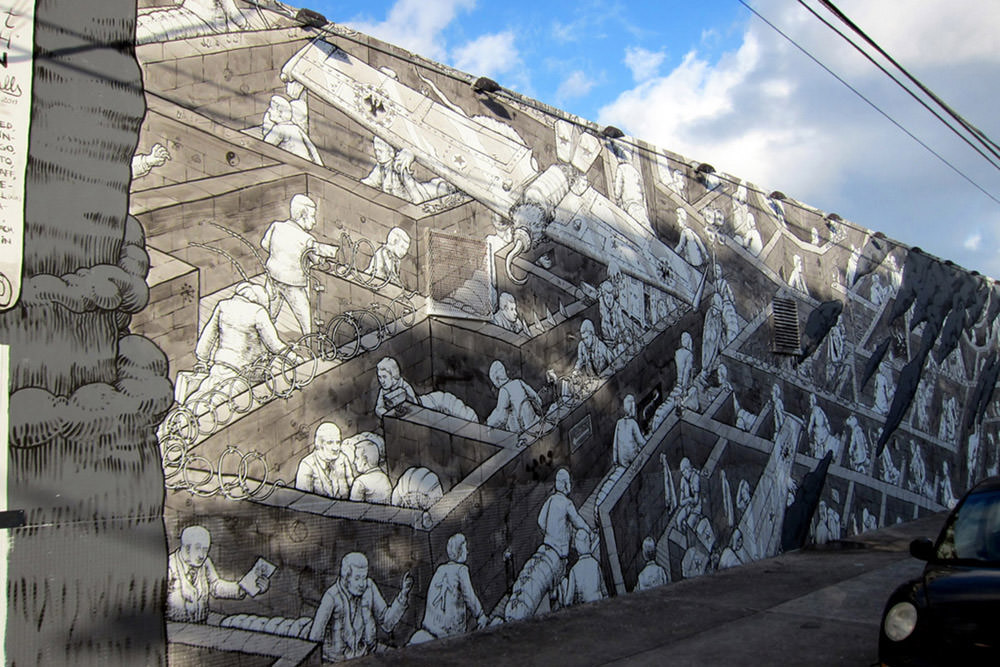 29. Colorful Mural by Stinkfish
A mural painted by the artist known as "Shaka" here, we see what appears to be a man lost in a daze of colors.
30. Metalic Mural of a Dog in Wynwood, Miami
A colorful mural by the artist named "Stinkfish", his heavy use of colors appear to show the beautiful and colorful thoughts inside the human mind.
With kids, it doesn't matter what life throws at them, they have fun with it. Adults are more pragmatic, which explains the visibly irritated man warding off these stripes of color with his black umbrella. Which do you prefer to be?