Samsung Smart Home is a package made up of 1 hub, 1 motion sensor, 2 multi-sensors and 1 outlet. Combine all of these parts to give your home a real-time monitoring system. It can record videos and keep it in storage for up to 30 days and is really easy to setup. Use it to monitor people or cars seen entering or leaving your home, particularly those that were unplanned or unauthorized. [Price: $249]
Through Subsound technology, Cocoon listens and learns who belongs in your home and who doesn't. It is pet-friendly (no worries). Cocoon provides multi-floor protection, all on its own. It has night vision, a wide-angle HD camera, temperature and motion sensors, and a siren you can activate from your phone. The app also allows you to call the police or a neighbor. [Price:£299]
Any movement detected in Canary's night vision mode with infrared LED triggers a notification, and allows you to call authorities easily with the app. Its high-quality recordings (great for securing convictions), can be streamed in real-time and stored up to 30 days in the cloud. It also comes with a siren you can sound to scare away intruders. [Price: $199]
Cocoon
Piper operates a 1080p camera to record immersive videos in 180 degrees, and has a built in motion detector and microphone to record sounds. If the security mode is breached, it will sound a loud 105 dB siren and send you notifications via text, email or even phone call. Piper also has support for home automation, manageable with the Piper App. [Price: $199]
August Smart Lock
Kibbi is a complete home monitoring system that has a wide-angle HD camera, 1 GB recording storage, night vision, motion detection, temperature monitoring, and proximity detection function. Kibbi sensors can be attached to all your doors and windows. Its abilities can be further enhanced with IFTTT e.g. turn on lights when an intrusion is suspected. [Preorder: £199]
Kibbi
On top of the night vision camera, temperature/motion sensors, FLARE is a small but powerful device that can recognize faces and speech patterns. It uses the geolocation info on your phone to know if you are leaving or at home. The pet-friendly device also can be made to shut down its lens (for privacy). It communicates with other devices via Bluetooth, triggered with IFTTT. [Price: £225]
Novi
In this list, we have smart locks that can be unlocked with a smartphone app for easy access while assigning time-specific keys to guests, friends, tenants etc; smart devices with multiple sensors, high-resolution cameras; even devices that learn your daily routine so they can figure out what isn't routine. Most of these devices will alert you of any intrusion and allow you in turn to alert authorities right from their app.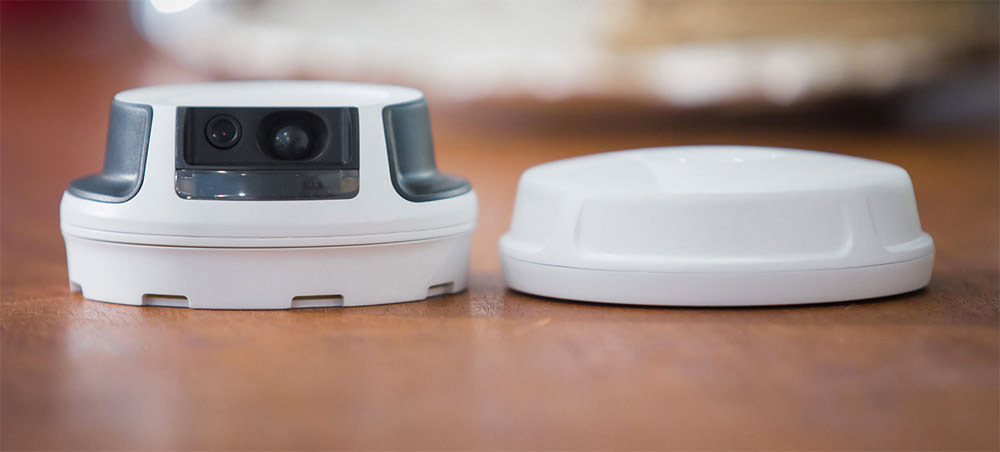 Buddy Guard FLARE
Bolt is a keyless door lock which works with existing locks. It lets you lock your door through your Android or iOS smartphone using low energy Bluetooth instead of Internet access. You can share access with family members or with guests. Each usage will trigger a notification sent to your phone. It also helps auto unlock your home for you by proximity. [Preorder: $99]
Bolt
Kevo is a Bluetooth-enabled electronic deadbolt that is available in many retail stores and can be bought online as well. A Kevo can be unlocked with a tap with your smartphone (with the Kevo app) or the Kevo Fob. You can also give temporary access to friends with an eKey. Kevo also works with Nest, allowing you to set your home temperature accordingly. [Price: $199]
Haven
With August you can now turn any iOS/Android smartphone or Apple Watch into a virtual key to your home. It auto-locks the door behind you, no more fumbling with your keys. All usage of assigned virtual keys are logged into the system so you can track who comes and goes, identifiable by their individual keys. August also allows you to grant time-sensitive access to friends or guests. [Price: $199]
Friday
It's a new age, and you need protection that can help safeguard your home and its residence no matter where you are.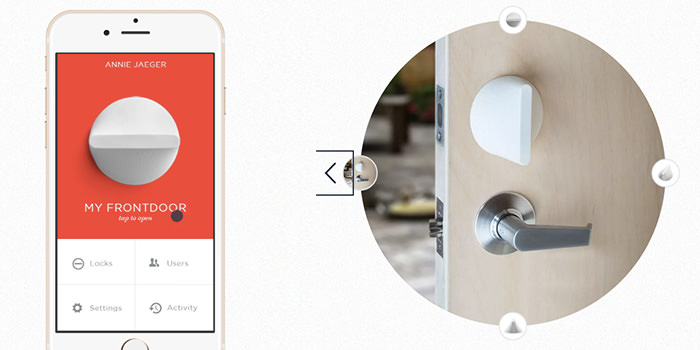 Kevo
Looking for a stylish and less-imposing smart lock? Friday comes in 4 different finishes: porcelain, wood, stainless steel and bronze. It works on top of your existing lock so you can still use your keys. You can also issue e-keys over WiFi for temporary passage to friends or guests. Any entry will trigger a notification and you can check the locked status at any time through your phone. [Preorder: $199]
Canary
Unlike other keylock mechanisms, Haven is a lock that is placed at the bottom of the door, providing a sturdy obstacle to prevent unwanted entry. Haven is made with steel and glass-reinforced nylon and aluminum. It comes with a Bluetooth-enabled key fob which you can press to lock or unlock Haven. It can be integrated with your other Smart Home gadgets [Preorder: $249]
Piper
iSmartAlart is a set of customizable devices to secure your home. The set includes the main control unit, motion sensors, a camera for streaming videos, and another for storing videos, Contact Sensors for doors and windows, and a remote control. Mix and match based on your budget to setup the alarm system of your choice. The alarm system is controllable with an iOS/Android app. [Price: $199]
ISmartAlarm
A smart home requires smart protection. In an effort to attain modern-day home security, manufacturers are pushing the bar higher by making their home-monitoring devices smarter and more powerful. Rather than splurge an insane amount of money on CCTV systems that require expertise to install, why not check out these affordable alternatives instead?
Samsung Smart Home
Novi may look like a smoke detector (and that's because it is one) but it has three more features that makes it a solid home security gadget. It has a motion sensor, a 170 degree HD camera recording in real-time and a 90dB siren for when you need to scare away an intruder. The Novi app informs you via your smartphone if something is wrong. [Price: $299]